Choosing Your Pool Builder: Ensure You Don't Get Burned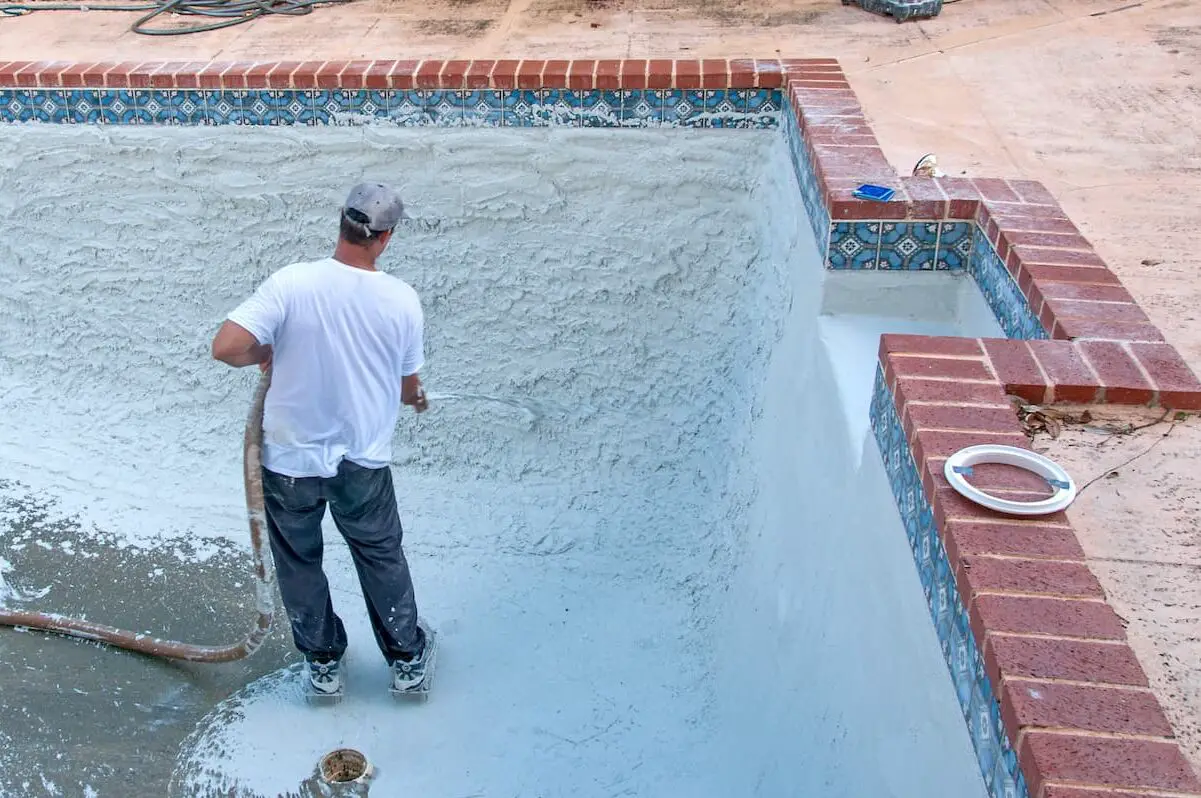 As an Amazon Associate I earn from qualifying purchases.
When you are planning on building your backyard pool you will inevitably find yourself wondering which pool company is the best one to use. You will find many people telling you that it is an easy thing to do while others will make promises high and low that they will be able to build a pool, despite their lack of previous experience.
The builder must be experienced and well known in your community, having built several pools that have not required extra work. The builder should also charge you a fair price, not going too low causing bad work, and not being so expensive that it is unaffordable, the best builder will already know what type of pool your area is and will last the longest.
Choosing who will build your pool is not an easy process and will require that you know what they should be doing and what they should not be doing. Several builders will try to skimp out on work or use the wrong tools for the job they need to tackle.
If you know what is needed and how much work has to be put in to create the perfect pool for your house you can be warned long before constructions start.
Get to know what your builder should and should not be doing when building your pool right here!
Learn How to Manage Your Pool and Hot Tub
Frustrated trying to keep your pool clear? Feeling confused about when to add the right chemicals? Get the perfect easy-to-use, illustrated ebook and video course today!
What are the signs a builder knows how to build a pool?
Many things will let you know whether or not a builder is prepared to build a pool, starting with how they prepare for the building of your pool. There are many things that you can tell from the tools, pools, and equipment they use when building a pool.
If possible you should take a look at a currently ongoing project that the builder is doing somewhere else.
These are the three things you need to look out for when choosing a builder for your private slice of pool heaven.
Tools
Every builder will have a few tools, this is obvious, however, when building pools there are certain tools that only that builder or contractor will have.
These tools are aimed at making the process easier, one of the most obvious tools that they will have is a large digger, along with several other tools to ensure the hole does not fill in over time.
Knowing what tools your builder has and how they will affect the speed of how your pool is being built. Many pools later end up leaking or requiring the new builder to come in and fix the damage done to the pool.
In rare cases, the pool not being installed correctly can cause later maintenance to cost almost more than the initial installation of the pool.
Pools
There are many types of pools that you will have to consider installing at your house and your builder should know what types of pools they can handle. Usually, you will be able to view past projects where they have installed similar types of pools.
If your builder has a set type of pool that they are comfortable with you should not ask them to work on a different kind of pool.
Many times builders will only install pools that they are familiar with, the most common type being fiberglass pools. These are prebuilt pools that are simply installed.
If you see that your builder is unsure about a type of pool then you should not push them into working with that pool.
Equipment
While the tools used to install the pool and the pool itself are some of the most important parts to look at when choosing a builder you should also ensure they know what other things to install.
All pools will need pump and filtration systems and if your builder is not aware of the right types of systems to install it can be very costly in the long term.
Having a filtration system that can actively clean your pool from the start will mean that your pool will not cost you more in the long term.
Always ensure that the equipment your builder is installing at your pool is perfectly capable of cleaning your pool at all times.
Why is the lowest bidder not the best?
Everyone is always tempted to take the lowest bidding offer when they are installing a pool or making any other kind of change to their house. This can save money and time in the short run, allowing you to be a bit more creative in the changes you are making to your home.
However, there is an inherent danger to this that can only be learned when making mistakes.
When installing pools you should never go for the lowest bidder, this is because these builders are always more likely to cause something to not be installed properly.
This causes structural damage to your pool, either when the builder does not dig the hole properly or installs large parts of your pool improperly.
One of the most important things to remember is that going for the cheapest right now usually means ending up paying a lot more in the long run.
Many pool owners have had to redo and fix mistakes made while installing the pool, sometimes it can be as simple as running new pipes.
Unfortunately, this is rare as pools that have not been supported properly will inevitably end up warping or bending which will cause them to crack.
Some pools can be fixed with new coats of paint or filler, however, many pools end up having to be entirely removed and reinstalled.
What are the things you need to look at when choosing a pool?
If you have limited space choosing a pool will be easy, especially if you have a local provider of prefabricated pools that provide small square-shaped pools.
However, if you have an odd, shaped garden or a large space to build a pool your options start changing drastically. Not only can you then create pools to any shape and size you want, but you can also choose any surface.
Fiberglass pools can be quite large, with a varying amount of coatings painted onto them that will allow you to enjoy your swimming experience.
However, all fiberglass pools are prefabricated into specific shapes, which means that you will have to pay a large amount of money to get the pool into your shape.
Fiberglass pools and vinyl-lined pools are very similar to each other and can be mistaken for the other.
The most popular way to make a custom shaped pool is with gunite, a pool material that works like cement in the installation phase.
These pools can be any shape, size, and depth that you need but will require a longer time to be installed, it has quickly become one of the most popular types of pool out there, with many new pool owners willing to take out the extra to install a gunite pool.
How long should it take your pool to be fully installed?
Many times owners will become worried when their pool takes longer to install than they expected, however, this can be entirely normal. Most pools take up to two weeks to install as all the preparation needed takes place.
You should still be careful, with some builders they will take an impossibly long time to complete the pool, costing you money and leaving your garden in a complete mess.
Fiberglass pools will only take around two weeks to install, while even small gunite pools will take just under a month to be fully installed.
If you have a large pool that is almost the same size as your house then the building process will take more than a month, in some rare cases lasting up to two months.
If you are afraid that the pool is taking too long to be installed or that the current builder is not doing something correctly there are usually inspectors that you can contact your local government.
These inspectors will happily come out to your house and tell you whether or not the pool installation process is going along smoothly and that everything is up to the required codes.
What are the different pool types and how should they be installed?
With every pool project, there will be two main types of pools that you need to consider before even looking for a pool. Knowing each type and knowing the benefits of each will mean that you are happier for much longer.
Further, the type of pool that you choose will also affect the overall size and the depth of your pool.
Pre-built pools
The most common and least costing option are pre-built pools, usually, fiberglass or vinyl pools that are simply installed into the hole your builder has already dug in the ground.
These pools are limited in their total size and shape by regulations set in each country. If you are planning on building a pool somewhere with limited space you should seriously consider a pre-built.
Pre-built swimming pools have to be transported to the house they are being installed at, which means they need to be transported with trucks on public roads, usually crossing state lines.
Many governments set in limitations of the pools to ensure that the pools being transported would not cause traffic or damage buildings.
This is why most pools that are pre-built are the same size and usually follow a set shape that is already available to the manufacturer.
Conveniently this decreased the price of the pools and allowed many more people to enjoy having a pool in the back of their yard.
Custom pools
When pre-built pools are the thing that allows people to do almost anything with the space they have available. Usually, this means including fountains, hot tubs, and several other amenities that you can only design yourself.
Some people want more rough surfacing while others enjoy having surfaces so smooth you can slide around on your feet.
Most custom-built pools are made out of gunite, this material has allowed pools larger than Olympic pools.
This freedom comes with the cost that the builder that creates these pools need to be specialized pool builders that know how to properly prepare the ground, get the right permits, and prepare the ground properly.
While pre-built pools that have not been installed properly will only have a few warps and can even be fixed with patch kits, the same can not be said about custom pools.
Because custom pools are built almost directly onto the walls of the hole dug for them they usually need to be prepared properly.
If the ground and mixture of gunite are not prepared properly then the pool will inevitably crack and leak water.
What are the things your builder should do?
The last step that you need to do will be after you have already chosen which builder will build your pool.
There are a few basic things that the builder needs to do while building the pool, this will be more or less the same for all pools and should be done by some type of contractor or builder at some time.
Here's how you will know what the pool builder should be doing and how they will treat the process as they keep going.
Measure: Before anything, before any planning or even just an outline is made in the ground the builder should measure the space available. If they are installing a pre-built pool they will choose how the pool may git in, while custom pools will have the builder create a plan. Measuring twice and cutting once applies to pool building the same as it does everywhere else.
Get Permissions: Like all major buildings done at your house, you will require several permits to build a pool. The builder should help you get these permits, usually doing all the required paperwork and having you sign off on all the most important documents.
Contract others: Most builders that work on pools do not do all the work directly, usually have several sub-contractors that they hire to do most of the work. These sub-contractors will dig the hole, create the lining, and several other things to ensure that your pool turns out perfect.
Install pumps: After the pool has been installed and much of the framework is being done your builder will install the rest of the systems required to have the pool run smoothly. Usually, this will be connecting the piping system to the filtration and pumps.
Fill the pool: The builder should be the one to fill your pool for the first time, coming to regularly check that the water is behaving as expected and not dropping below the expected amount. Most pools will have some water drain away into pumping systems, the lining, or just generally set in, but the builder should ensure this is within the allowed amount.
Final groundwork: Before the builder can say that the pool is done they usually also have to complete everything around the pool. This includes installing the pavement, amenities, and other things that surround the pool. This must be done, and it is part of the builder should do, not to be left to someone else that works on the pool.
Learn How to Manage Your Pool and Hot Tub
Frustrated trying to keep your pool clear? Feeling confused about when to add the right chemicals? Get the perfect easy-to-use, illustrated ebook and video course today!
Final Thoughts on How to Choose a Pool Builder
There are many things that you will need to know about the builder, you should be aware that your builder will be at your house a lot.
Take care of all the small details and ensure that the pool is installed properly, usually having the right sub-contractors there for you to have the pool of your dreams.
Just be sure the builder doesn't try to have the hole dug by hand, that could make a two-week installation take well over a month.