How Long Does it Take to Put in an Inground Pool?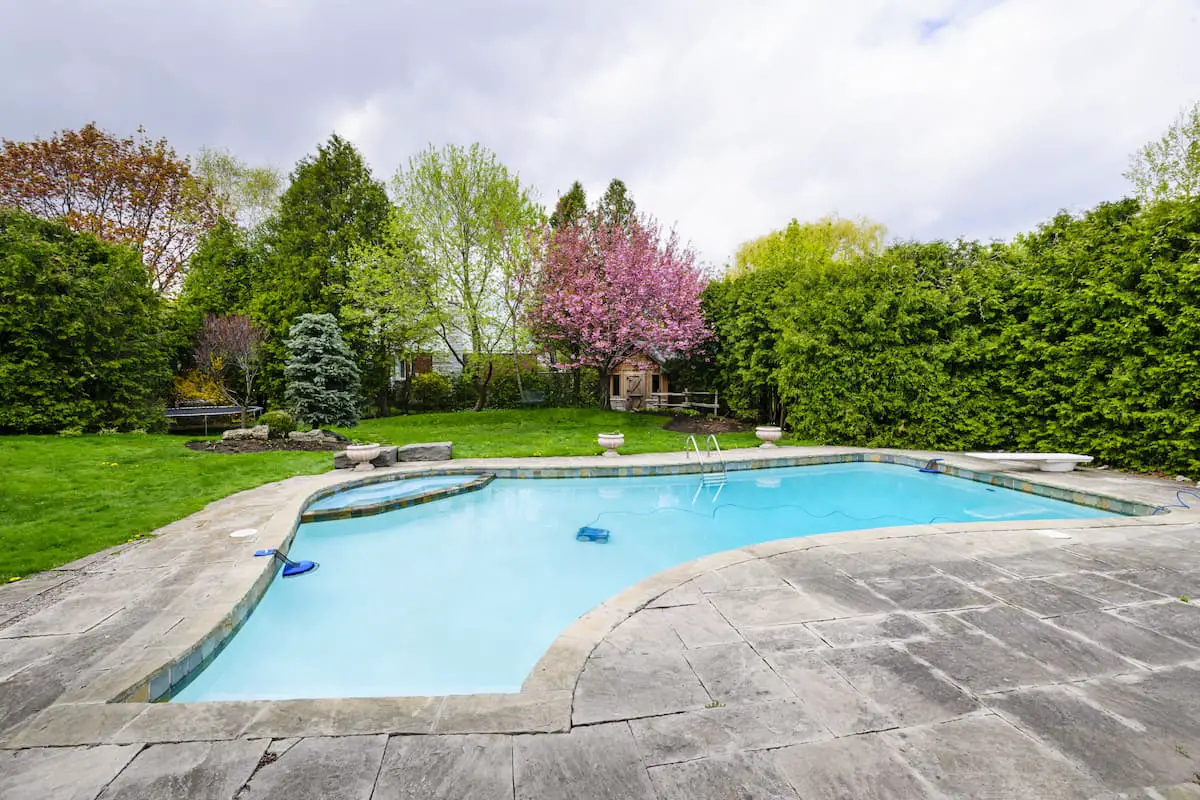 As an Amazon Associate I earn from qualifying purchases.
The standard inground pool is the demand of many people; regardless of the expenses, they are a great thing to add to your property. But if you were to install them, how long would it take?
If you want to understand the time it can take you to have a properly built inground pool, you need to settle on the type of pool you want. The factor of budget and material also makes a significant change.
But worry not, because we will teach you about all there is to know about different inground pool costs, their installment procedure, and most importantly, the time they take to build.
Since there is also the factor of size, we will go with an average size because people tend to have a pool that is not too big and neither too small.
A pool should be just big enough for you to relax in, without feeling overwhelmed or uncomfortable. Luckily, after this article, you will be ready to decide what you need.
Learn How to Manage Your Pool and Hot Tub
Frustrated trying to keep your pool clear? Feeling confused about when to add the right chemicals? Get the perfect easy-to-use, illustrated ebook and video course today!
Different Kinds of Inground Pools
There are three common types of pools; some can take two weeks to build, while others can go for a month. It depends on many factors, but let's first understand what these are.
Fiberglass Pools
Fiberglass pools are the fastest yet somewhat fragile when building because the pool's fiberglass structure is manufactured outside while the site gets prepared for the installation. 
The process of delivering and transporting a fiberglass pool is tricky because even slight damage to it can lead to future disasters concerning the pool. 
The fiberglass pools sometimes tend to have a shorter lifespan than other pools. But if it is installed correctly, it can go for over 25+ years. However, there are others that enhance the lifespan of this pool even further.
Vinyl Liner Pools
These pools are probably the most popular kinds of pools in demand currently. They can be customized and leave a great impression. Their vinyl liner needs to be changed every decade or so, but they are still excellent and attract every eye.
The pool walls are made on the side, unlike the fiberglass pool. They are made of steel or polymer, which has excellent quality.
The best thing about these pools is that even though they are customizable when installed, their prices are not that high.
Compared to others, this may cost more than average and balanced between the three. Although it requires high maintenance, it's still one of the most popular and works great when installed well.
Concrete Pools
The concrete pools take the longest time because all the materials are made on-site, and many factors may delay or affect the construction.
People tend to go for the other choices for these reasons, but they are the most efficient and sturdy than others.
They can last for as long as 50 years, if not longer. But their cost is also significantly higher than the other two. They are also customizable in size and shape, but the risk of bad weather and other factors can be bad when you need at least a month or more for its construction. 
Unlike the other two pool systems, they are not compatible with saltwater, which may be the wrong choice.
The Time They Can Take in Building
Each type has a significant difference in time in installation. Because they all have different factors and materials, some require them to be made on-site, while others are manufactured already. But let's talk about how long it takes to put those inground pools? And why.
Fiberglass pools don't require as much construction time as others because the structure is pre-made. Oftentimes, you can't have customized fiberglass pools; however, you can choose which one you may like. 
The entire process can take up to 2 weeks, combining the construction time. Sometimes you may hear someone saying how a pool was built within a day in their neighborhood or somewhere, which in most cases is the fiberglass pool.
Their shell is delivered home, and the actual process can take a few days if the conditions are right, but mostly, it takes at least two weeks. The one-day talk is for promotional gimmicks; the actual time is much longer than that.
Vinyl liner pools are neutral in time because, depending on the builders, it can be built as fast as fiberglass or can take as much time as concrete pools. Most of the material needs to be assembled on-site; however, the labor work in this pool is much less than in the concrete pools.
Their typical installing time is 2-4 weeks, which can drastically change depending on your workers. 
Concrete pools take the longest because their material is all made on the construction site. The concrete mixture and all plumbing things are made on-site and need to be assembled in a particular order.
This pool takes more time, but if you have patience and a higher budget, this pool is also more durable, guaranteeing you 50+ years of suitable condition.
One of the biggest problems is the weather, which is why they are mostly built in a particular season. When the winter ends and summer is about to start, it's the best time to have it installed; if the conditions are good, you can enjoy it right at the beginning of the hot summer, ideal for the owners.
It Can Take Much Longer Than That
Pool projects rely heavily on the worker's condition, the area, and the weather, and some factors can prolong the inground pool installment even further.
Permissions
Sometimes inground pool construction can annoy or disturb the neighborhood, so depending on where you live, you may need to ask others for permission or for a suitable time.
Having loud machines over while the neighbors have guests can cause disputes between each other. Not to mention, you will also need pool permits, which may take over a week or so.
The Builder's Schedule
There won't be many builders available who can do this work professionally. So, depending on how busy they are, things may take a bit longer than your expectations.
Keep in mind that these things can go longer than what people agree on, so don't get stuck on the dates the builder tells you. It is better to have face to face meeting with them and discuss, so if they aren't available, you can ask someone else with an open schedule.
Custom Features
If you want to spend a lot on a pool, the chances are that you want some custom features or designs for your pool. Which raises the question, where will you get these materials if they aren't available in the market at the time?
This small delay can cost you weeks and delay the work even further, so it's best to have these things already prepared, or at least pre-booked.
Construction Ground
Not every place is suitable for an inground pool. What if your backyard or outside area has a sewer system or pipelines that need a look before you start working over these?
If you rush and end up damaging things, it can cause problems not just for you but for others, and you will need to pay for the collateral damage.
Ask for blueprints of underground lines, and ask the majority for permission if you want things to go smoothly.
Weather
If your area has bad weather, or if the season is terrible for such construction, the builder himself might not be willing to do this work.
If you want an inground pool constructed, you will need to be patient and wait for the right timing before working on the construction.
Construction of Inground Pools: A Step by Step Guide
Each type of pool may differ in appearance; their steps are quite similar. The pool that takes the longest is a concrete pool, which has the most necessary steps. Some of them are skipped if you go for the other two options.
So, without further ado, let's go through the construction steps of an inground pool.
Step 1: First and foremost, you need to have a layout of the pool area and gather all the necessary items you will need to construct it, and extra things, such as custom designs or vinyl liners if you go for those.
Then, you start by carefully digging a large hole that can make a pool of the same size you want. It's ideal for digging a more massive hole because you fill it or cover the exterior with many protective layers, which reduce the size bit by bit until it's complete.
Step 2: After finishing the layout and digging a hole, you need to fill it with concrete or other material, depending on which type you go for. If you have high budgets, these steps don't take long because you can pay extra for overtime or have more workers.
Once the hole is filled with the first protective layer, they either cover it all with plaster and then tile it up or add another layer before adding the vinyl liners.
If you go for fiberglass, they bring an already manufactured inground pool that fits inside and is made strong by attaching it inside correctly. Depending on the type of pool you want, this step can vary for all.
Step 3: The third step is to have the final layers added and have the entire area cleaned up. You need to check properly if all sides are fit and no cracks or leaks are present because they can be disastrous for you. If things are well and smooth, clean out the entire area once it's cured and hardened.
You need to make sure that things are proper before you fill it all up with pool water because if there's a fault, it will cost you even more and can be difficult with all the pool water.
Step 4: Finally, your pool is finished, now you can have chlorinated water from pool water services, which can also be the fastest way to get pool water. This process takes only a few hours instead of days, and you can quickly start enjoying the pool as soon as it is filled up.
Although the process does not seem hard, it is labor-intensive and takes a long time. So, it's best to consult with the builder about which additions you will want in the pool.
Don't be shy to ask any questions, because you are paying tens of thousands for this, and you need to get the best results.
How Much Does It Cost?
The price can vary depending on your needs. If you want extra features and designs, it can get more expensive, but the average prices are 20K-25K$ for fiberglass pools.
If you're going to go for the vinyl liner pools, it can cost around 30K-45K$; this gap can increase if you add more decorative designs. That type of pool is most desired, and people pay a lot for their favorite designs on the vinyl liners.
However, if you want to go for something more expensive and durable, then concrete pools will cost you 50K-70K$, at least. If you want a bigger size or some additions, it can quickly increase that range.
Having an inground pool is an expensive decision, but if you have the money and a long-term property, it can be a great addition.
Learn How to Manage Your Pool and Hot Tub
Frustrated trying to keep your pool clear? Feeling confused about when to add the right chemicals? Get the perfect easy-to-use, illustrated ebook and video course today!
Final Thoughts on How Long Does it Take to Put in an Inground Pool
Inground pools take a lot of time in construction and even more money, depending on your wishes. However, it can create beautiful memories in your dream property and is best for summers. If you have resources and want this addition before summer hit, then be patient and collect contacts.
If you start gathering information regarding the construction beforehand, it can decrease the construction time by a lot. You will need to get professionals and permits, which can take time, but once you get those two, things are halfway done already.
All that remains is the construction itself, and good luck on your side.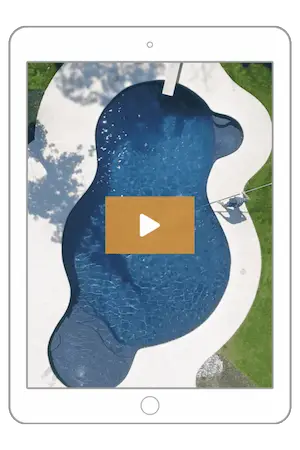 The Pool Care Handbook and Video Course
Frustrated trying to keep your pool clear? Feeling confused about when to add the right chemicals?
This guide cuts out all the confusion of pool maintenance in this easy-to-read illustrated ebook and a video course. It'll help you save $100 right away on pool care!