Experience the Charm of a Kidney Shaped Pool Today!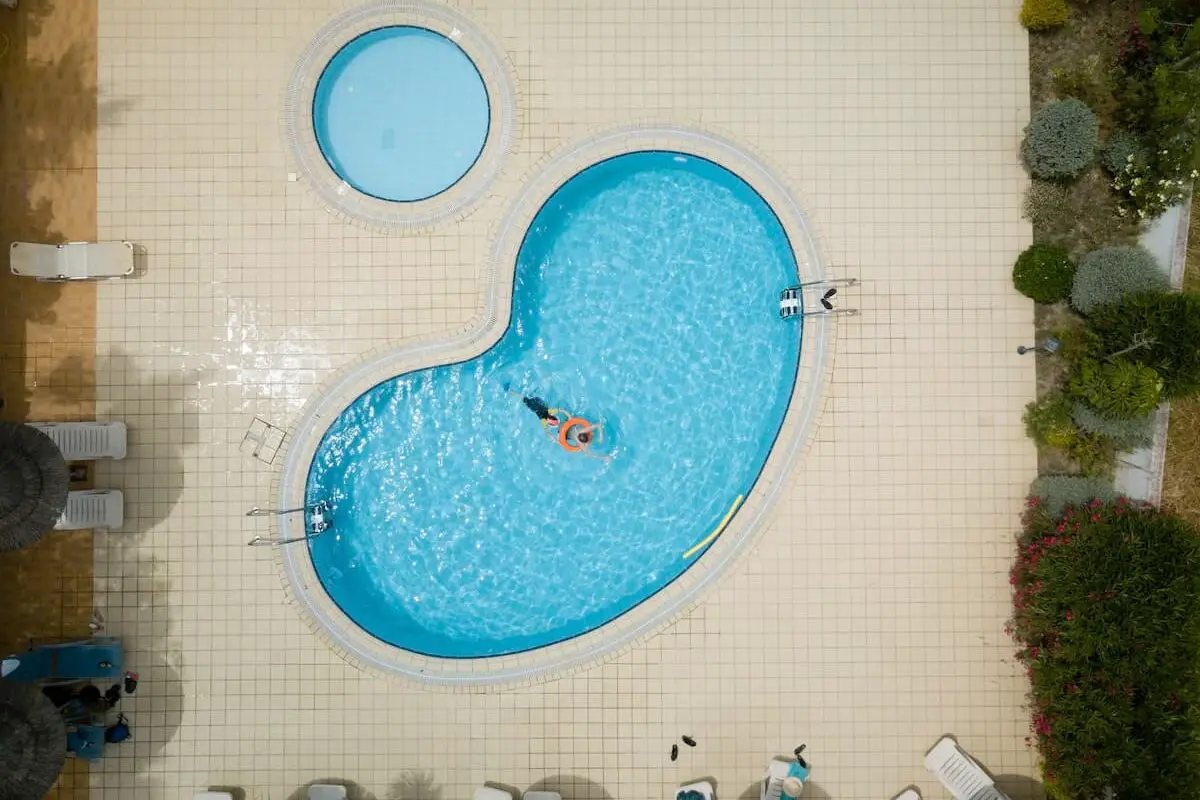 As an Amazon Associate I earn from qualifying purchases.
Deciding on the right shape for your pool is a crucial decision that takes careful thought. The right design can complement your home and backyard perfectly. The kidney-shaped pool could be a viable option because it is a popular choice among homeowners. So, what is a kidney-shaped pool?
A kidney-shaped pool is comparable to a more extended oval pool, except it contains an indentation on one of its sides. It provides a much more natural shape and contour because it can adequately place a deep and shallow end for its swimmers.
Kidney-shaped pools became popular during the 1950s, and they originated from a Finnish architect named Alvar Aalto. He designed a rural, experimental house in 1939, and one of the features was the kidney-shaped swimming pool, which contained the aesthetically contoured edges on the sides and bottom of the pool.
The kidney-shaped pool did not make its way to America until 1948, when an architect friend of Aalto, Thomas Church, worked up a modified design. Most pools in America were rectangular and straightforward for swimming laps, but Church's was a refreshing new look for the residential home.
The main focal point of the first American pool design was the protruding island center. Church's kidney-shaped design exaggerated the pool's contour into a biomorphic look, which was captured for a variety of magazines. The initial design was then broken into three other variation designs:
Brick-lined kidney shape design – provides a quality contrast between the concrete sidewalk
Kidney-shaped spa – unique twist to the standard hot tub
Kidney shaped pool with elevations – ideal for sloping land
Learn How to Manage Your Pool and Hot Tub
Frustrated trying to keep your pool clear? Feeling confused about when to add the right chemicals? Get the perfect easy-to-use, illustrated ebook and video course today!
Benefits of a Kidney Shaped Pool
Besides the convenience of the shallow and deep end placement, there are many benefits to putting a kidney-shaped pool in your yard. The naturalistic appeal is a quick draw because of the symmetrical formation, sharper corners, and accurate representation of a water body. A rectangular pool does not give any resemblance of a natural body of water.
The curves of a kidney-shaped pool make it an inviting place to enter for visitors and owners of the pool. The indentation is also an ideal spot for landscaping elements and other plants to complement the pool's aesthetic appearance.
The shape of the kidney pool also provides much more efficient use of space than other natural designs. For example, the curves can bend around a deck or house corner.
If you have a smaller yard or limited spacing options at your house, a kidney-shaped pool can deliver many advantages that other designs cannot.
Kidney shaped pools also create a "retro" element for your house or property. When kidney pools first came on to the scene in the 1950s and 1960s, they were a popular, mainstream option for residential swimming pools.
People who install kidney-shaped pools will feel a throwback vibe when private pools are more luxurious and glamorous. Retro over modern designs is also a personal preference.
The overall functional design of a kidney-shaped pool is something that cannot get ignored. Owners have the flexibility to decide where the division between the deep and shallow ends.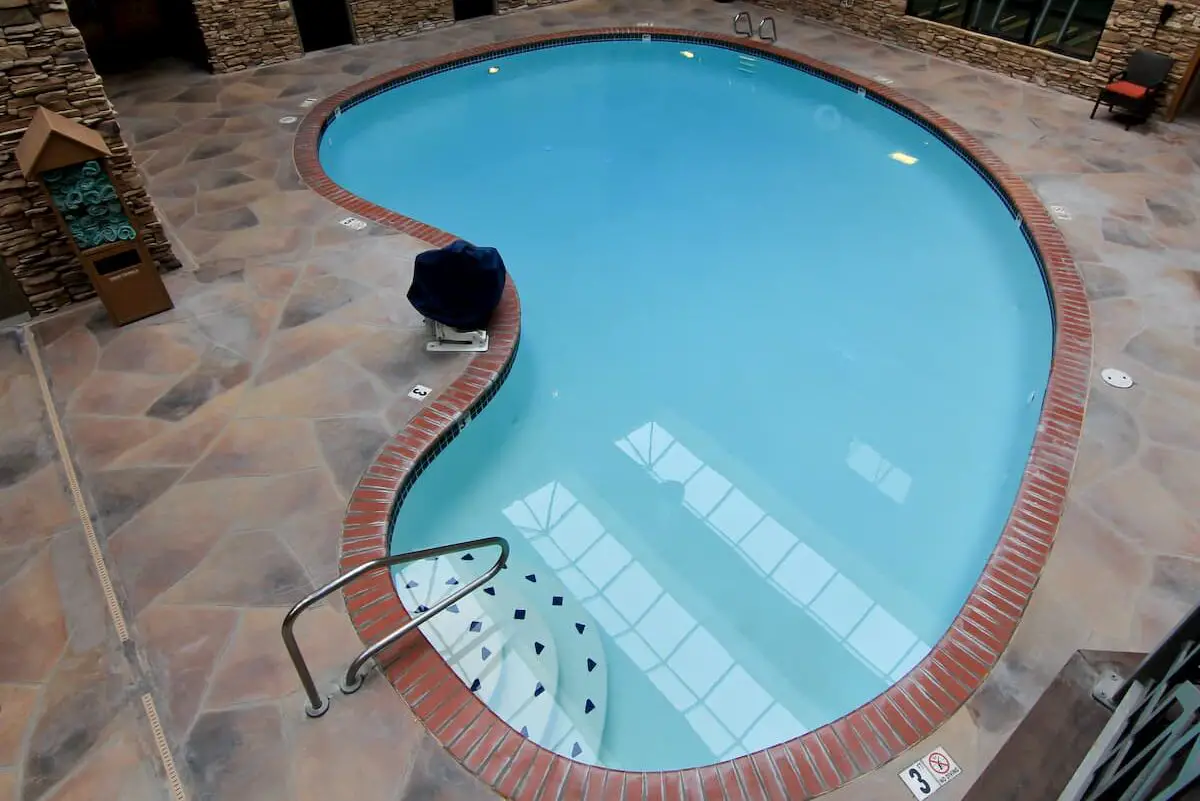 The contour in the kidney-shaped pool clearly defines the separation, making for a safer and more functional swim. And because the curve is minimal, swimmers can still enjoy activities like diving and swimming.
And while the bump or indentation can be an excellent place to put plants or other landscaping, it can also be an ideal place to put pool furniture like chairs, tables, umbrella, or an in-ground spa. If you wish to place a pool ladder, the indentation would be an optimal place.
How to Measure a Kidney Shaped Pool
You might be wondering how to measure a kidney-shaped pool because it is a more complicated process than circular and rectangular pools. Rectangular and circular pools require a quick mathematical calculation, but a kidney-shaped pool combines both elements.
You calculate the curves like you would a circular pool, but also measure the elongated shape like you would a rectangular pool.
The process of how to measure the kidney-shaped pool utilizes a straightforward formula and three different measurements. The first step is to measure the pool length with an imaginary line.
You should visualize this line to join the opposing ends of the pool with the longest axis. You can repeat this measurement until you are 100% confident that it is accurate.
The next step is to get the width measurement of the more massive bulge of the kidney. The measurement value of the larger bulge will be labeled as "A".
Then, capture the value of the smaller bulge width and then mark down the value as "B". Much like you did in step one, make sure to double-check and confirm that your measurements are correct.
The third step requires some extra math in calculating the surfaced area, utilizing the formula:
Area = (Sum of A+B) X Length x 0.45
The last step involves performing a final check of your calculations. It would be best for you to reverse the calculations by dividing the surface area by 0.45.
If this answer is not equal to the combined widths of your A and B measurements, you did not do the calculations correctly. It would help if you did the math over again until you get the answer correct.
Kidney Shaped Inground Pool Cost 
Depending on the size and material, your kidney shaped inground pool cost may vary. You want to ensure that you build a pool that is the ideal size and durability for your property.
Below are the average prices of a kidney-shaped pool:
8'x15′ Kidney Shaped Pool: $5500 for steel, $6215 for polymer
12'x20′ Kidney Shaped Pool: $5700 for steel, $6550 for polymer
12'x24′ Kidney Shaped Pool: $6000 for steel, $6780 for polymer
14'x28′ Kidney Shaped Pool: $6680 for steel, $7550 for polymer
16'x32′ Kidney Shaped Pool: $7030 for steel, $7980 for polymer
18'x34′ Kidney Shaped Pool: $7450 for steel, $8450 for polymer
18'x36′ Kidney Shaped Pool: $7650 for steel, $8700 for polymer
Final Thoughts on Kidney Shaped Pools
Choosing a pool shape for your home is a crucial thing that needs some thought, sometimes the best option may be the kidney or maybe a plunge pool.
Though the fiberglass square pool shape is very common it is much less personal and much more industrial which leans people to enjoy their experience much less, I personally enjoy kidney-shaped pools when I visit friends.
Take care though to use as it will be a major player in your choice of pool, if you are a lap swimmer then a kidney pool isn't a fit for you and I would suggest against the purchase to save you the hassle and irritation later.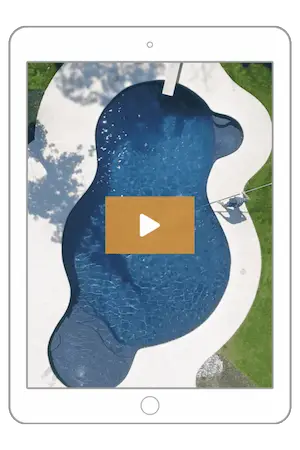 The Pool Care Handbook and Video Course
Frustrated trying to keep your pool clear? Feeling confused about when to add the right chemicals?
This guide cuts out all the confusion of pool maintenance in this easy-to-read illustrated ebook and a video course. It'll help you save $100 right away on pool care!