Plunge Pools: Everything You Need to Know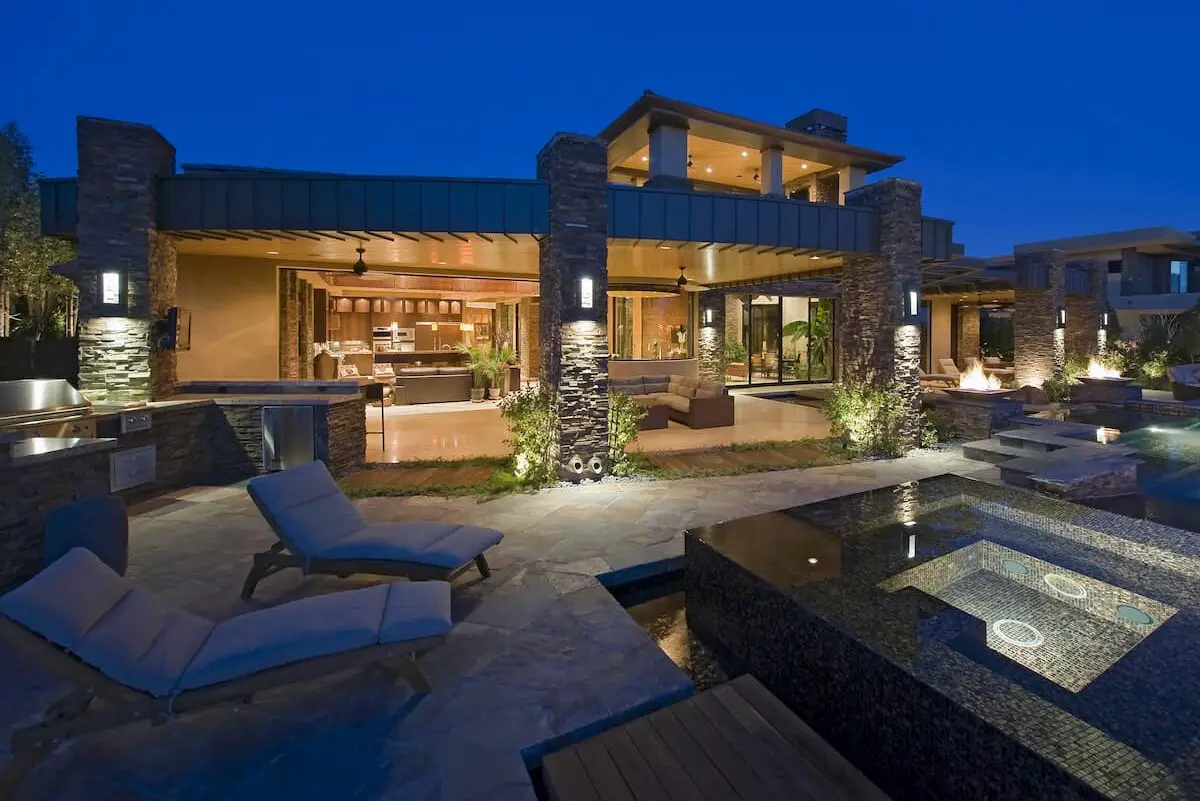 As an Amazon Associate I earn from qualifying purchases.
While plunge pools may be a new term to you, I know this year they were to me when I began looking into pools to provide you with all more information on the topic to be more informed for a pool purchase.
Plunge pools have been exploding in popularity outside the United States for the last few years and we are just starting to play catch up on the trend. This means not many people have them and many people don't know they could request them.
Let's jump in and examine what they are and why you may choose to have one versus a standard pool. This can help you possibly get the best pool for your money that will fit your needs.
Learn How to Manage Your Pool and Hot Tub
Frustrated trying to keep your pool clear? Feeling confused about when to add the right chemicals? Get the perfect easy-to-use, illustrated ebook and video course today!
What is a Plunge Pool?
A plunge pool is typically a set size but that drops down to a set height that is maintained across the entire pool length and width. Unlike other leisure pools that can move from a shallow end to a deep end, plunge pools focus on full submersion and relaxation.
Because they are a set form and typically smaller in the form they can cost less than a standard size pool making them more accessible to a wider audience and suited to leisure.
Additionally for people who need to do low-impact workouts they are a more cost-effective option is great for those who may need aquatic rehabilitation or low-impact exercise.
Why Choose a Plunge Pool?
Compact So Easier to Maintain Needed Temperatures: In a cold plunge pool you will want to maintain water temperature around 50 degrees Fahrenheit and hot pools maintain temperature till 40 degrees Celsius.
Typically of Fiberglass Construction: The standard plunge pool will be built from fiberglass which makes them easy to clean.
Used For Hydrotherapy: Helps to reduce muscle inflammation, pain and quickens your recovery time.
Lower Maintenance: Size helps shorten the time spent on overall maintenance compared to bigger swimming pools.
How Does a Plunge Pool Work?
The plunge pool is much like a normal pool with the difference being that it is typically the same depth for the entire length and width. Normally at a level of 5′ or so where you could float and relax or walk while fully immersed.
They were primarily used for relaxation and rehabilitation where a deep end isn't a need, if anything it is a detriment to use. The way this lays out is that you have a perfect area for friends and family to play and enjoy in the water, lounging poolside with a nice area to cool off when you need it.
The other frequent use is for aquatic rehabilitation. This style of pool is perfect for anyone who needs low-impact exercise and recovery.
Add on the fact that people many times will add jets like in a Jacuzzi which could transform the use of your plunge pool, converting it into a useful space for swim training and exercise in addition.
How Big are Plunge Pools?
By definition, it is anything under about 20′ or 6 meters. The most typical versions you will find are in the 7′ to 12′ sizes as this is perfect to jump in and work out then get out and move on.
Much of this will depend on your space available in the yard to have them fit along with all the necessary pool machinery including pumps, filters, and more.
How Deep are Plunge Pools?
If you are aiming for the hydrotherapy approach for your plunge pool then to get the full benefits you will need the pool to be deep enough to submerge yourself in it fully.
This means your plunge pool needs to be a fit for you if the intention is to do hydrotherapy and water-based workouts as if it is too shallow you will not get the range of motion you need.
How Deep Should a Plunge Pool Be?
Most plunge pools will have a fairly standardized set of depth options from around 4 1/2 feet to around 6 feet deep. You want to choose this wisely to be comfortable as it is supposed to be aimed at relaxing.
How is a Plunge Pool Formed?
The most typical is going to be a pre-formed fiberglass form that can be dropped into place or a dug-in concrete-filled form that would need to be done at build in your yard.
This is how they can be such a lower cost overall as you can have a plunge pool actually sent to your home to be installed but formed someplace else prior instead of all the work needing to be done on-site.
Since they can be much smaller you don't have the same truck restrictions you would have on other pools, they can easily be transported to a spot for install.
Are There Above Ground Plunge Pools?
Well, we have spoken a bunch about having a plunge pool that can be installed in your yard. Can you have a plunge pool that is above ground?
There are options including the fiberglass models which could be installed above ground with a drop in, this would be something to best discuss with the pool installer though as you will need proper support for the pool.
Are Plunge Pools Worth It?
This is going to be more based on the need and want for the pool that you are looking for. If just by sheer costs and to have water you can relax in and cool off in then they can't be beaten as to total cost.
If you want to be able to swim laps and move around a lot then they would most definitely not be the correct pool to fit your needs, understanding your personal need is the key.
What Temperature is the Water in a Plunge Pool?
For pools, the temperature that people prefer is around the 70-75 degree mark for comfort from hot weather but not so cold as to make you need to leave the pool.
The interesting thing about a plunge pool though is that they can be so many different things depending on your need. This doesn't mean you can just change them each day for your need but they can be any of the needs you want from it.
Most people will choose to keep their pool in the 70-75 degree range to have maximum comfort from their pool while relaxing after working out or stressful work.
Are Plunge Pools Warm or Cold?
Plunge pools have the option to be configured for either heat or cooling depending on your needs. The needs for heat could be up to 104 degrees or if cooling for ice plunges you could get them as low as 50 degrees.
A cold plunge pool will have its water temperature around the therapeutic level of 50° F. Whereas a heated plunge pool would be maintained at water temperatures up to 104°F.
Can You Swim in a Plunge Pool?
While a plunge pool is very useful for therapy and relaxation many like to be able to swim around. Since the depth is around 5 feet deep anyone should be able to casually swim without issue.
If your goal though is to do lap swimming then you will not want to get a plunge pool as they are typically less than 20 feet long which is very unhelpful when wanting to do laps as you will spend most of your time turning not swimming.
If the aim is to just enjoy swimming and playing then you will be more than happy to have a plunge pool as at 5 feet deep you have plenty of room to enjoy playing around and relaxed swimming.
How Do You Keep a Plunge Pool Clean?
The way to keep your plunge pool clean is the same as you would follow for any other pool, which is you need to take care of it with proper cleaning, scrubbing, chemical treatments, and the like.
To maintain a healthy pool please follow the cleaning instructions below:
Brushing: Brush the walls of the pool to remove the dirt and algae every day. Have the circulation pump ON while brushing, so that the debris will be pulled to the filter. Later the filter is removed and cleaned
Skimming: Skim the water every day. This will avoid the debris from collecting at the bottom
Vacuuming: Vacuum the pool at least twice a week.
General Cleaning: Scoop the clutters regularly to make the vacuuming easy
Benefits and Drawbacks of Plunge Pools
There are quite a lot of benefits and problems that exist when you choose to have a plunge pool versus a more standard size pool, we are going to dive into a few of these to help you get a better grasp on what could make or break it for you.
Benefits of Plunge Pools
Let's start by covering the 4 bigger benefits that come from having a plunge pool as opposed to a standard pool. Each of these can be a large saving for you over time and money spent.
Small Space Requirements
One of your best benefits to a plunge pool is the ability to fit them almost anywhere in any yard space. Unlike a standard pool where you need a significant amount of space to have one installed the small size helps to fit it anywhere.
Since this pool can be done above ground it also allows for simple placement and alignment to your yard space allowing placement to really be just about anywhere.
Easier To Clean And Maintain
Since the pool has less size and space it is much simpler and faster to clean and this means huge time savings. In addition, the maintenance is dramatically shortened by the same smaller surfaces, you have a need for far fewer chemicals and environmental pollutants.
Lower Ongoing Costs
The plunge pool has huge savings to ongoing costs like heating or cooling due to the much lower volume of water contained within it. Along with the fewer chemicals, this makes the pool a much better value over the long term.
Lower Installation Cost
The costs when you look to hire someone to come install your pool will be much lower as the number of man-hours should be dramatically lowered with a plunge pool versus a standard in-ground pool.
This is due to much less overall digging and basic work that is required to haul out the dirt for a huge 30000-gallon pool, the smaller pool can be much easier to prepare and finish.
Drawbacks of Plunge Pools
There is some key drawbacks for a person who is interested in getting a plunge pool that should be thought about long and hard prior to ensure the pool fits the needs you want to have filled.
Less Overall Pool Space
The pool size is much smaller, so if you have large gatherings you won't be able to fit everyone in at the same time for many of these plunge pools due to the fact that they are smaller and more compressed overall.
Shallow Water
If you like to dive deep into the water then a plunge pool will not fit your wants, the average depth comes in about 5 feet to 6 feet deep for submersion but not completely underwater.
This also means that in general, the pool will be warmer than a standard-sized pool as the deeper the pool is the better it will be at keeping the temperatures down, you may need to go with a pool chiller to keep this size pool at a nice cool temp.
Lacking Aesthetics of a Larger Pool
Much of the fun from the pool is the aesthetics of how you can set it up and the look of extravagance. Unfortunately with a plunge pool, they have far less space to work with and much of the look is contained.
Though if you check around you will see some interesting concepts to allow you the chance to actually hide the plunge pool and then only show it by exposing it, some even hide them under their pool deck!
Less Space for People
The final thing that may put a final nail in the coffin of your choice for a plunge-style pool is that there is very limited space for guests or people to hang out inside the pool.
This will vary depending on the size of the plunge pool, I have seen them up to 20 feet long which would have more space but the size of plunge pools is like 7 feet wide by 10 feet wide which leaves little room for the group's enjoyment.
How Much Does a Plunge Pool Cost?
Looking at the going prices on HomeAdvisor you are looking at somewhere between $20-30,0000 for the pool installation, though this number will depend on your area and the extras you choose.
This is a large saving over the normal cost of a regular pool which they listed at anywhere from $60-75,000 for the same basic installation but each bonus will cost more on average increasing this price point fast.
Should You Install a Plunge Pool?
If you are needing a way to relax after busy days or are looking to work on hydrotherapy for injuries then a plunge pool is definitely the right choice for you to add to your home.
The benefits we discussed above definitely spell out why the plunge pool could be a perfect fit, from fewer costs per month and overall minimal needs to manage along with less cleaning time.
Final Thoughts on Plunge Pools
Deciding what pool to buy for your outdoor space is something that does take careful consideration and shouldn't be an impulse or fast purchase. You want to make sure you weigh all the information and match it to your users to make the correct choice.
While my more traditional pool is very similar to a plunge pool it still has a shallow and deep end but in size is closer to a plunge pool. I absolutely love my pool but I also have access to a lap pool as part of the neighborhood so I am able to get out when I want to.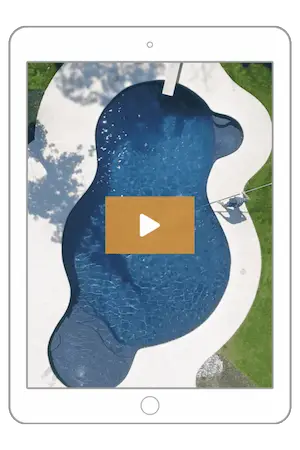 The Pool Care Handbook and Video Course
Frustrated trying to keep your pool clear? Feeling confused about when to add the right chemicals?
This guide cuts out all the confusion of pool maintenance in this easy-to-read illustrated ebook and a video course. It'll help you save $100 right away on pool care!