Dolphin Nautilus CC Plus Review: Magic in Your Pool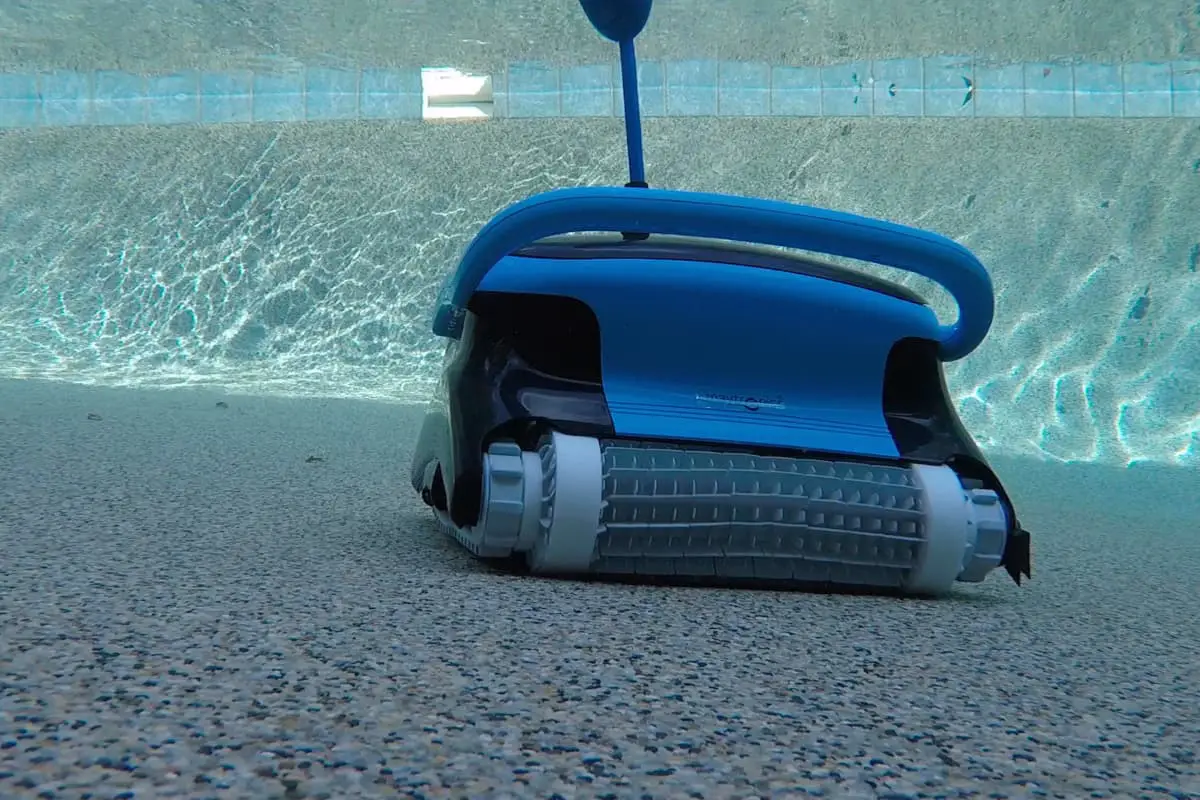 As an Amazon Associate I earn from qualifying purchases.
While everyone loves to swim in their amazing pools during those hot summer months cleaning can be a downright hassle. When you start to add in the time required to manage a pool a robotic pool cleaner can be an absolute godsend, this brings me to the Dolphin Nautilus CC Plus which is quite amazing.
I can tell you that manually cleaning is a time-intensive and unfun job, especially when all you want to do is get in and enjoy it. This is why robotic pool cleaners are so pleasing to me and others, it does 99.99% of the job without interaction!
Best-in-Class Cleaning
Hello, free time! Let the Dolphin Nautilus CC Plus robotic vacuum cleaner take over your pool cleaning duties for good. Easy to use and ideal for in-ground swimming pools up to 50 feet, this cleaner will leave your pool sparkling clean in just 2 hours. Spend more time enjoying your pool and less time cleaning.
The clean you need without the hassle. The Nautilus CC Plus was designed to clean your pool, effortlessly. With dual scrubbing brushes and superior filtering capabilities, you can relax knowing your pool's floor and walls are left exceptionally clean.
Ditch the pumps and hose. Unlike the energy hogs that are pressure and suction cleaners, Dolphins are independent cleaning machines and do not rely on any additional equipment to get the job done. Save energy with every pool cleaning.
Here's a rundown of what we'll provide in this Dolphin Nautilus CC Plus review:
First, we'll share the features and benefits that you'll find useful
Next, we'll take a look at the drawbacks you might need to know about
Then, we'll tell you a bit about the Maytronics company
And finally, we'll provide a sampling of actual customer feedback along with Independent reviews to give you better insight into the product.
Sound good? Let's get started!
Features and Benefits of the Dolphin Nautilus CC Plus
Hassle-free pool cleaning. The Nautilus CC Plus was designed to clean your pool, effortlessly. With dual scrubbing brushes and superior filtering capabilities, you can relax knowing your pool's floor and walls are left exceptionally clean.
Effortless Cleaning – Tangle-free swivel allows this Dolphin to move with ease for complete coverage of your pool getting corner to corner clean for your enjoyment.
Hello, Free time – Set the weekly scheduler to automatically clean for you, long gone is needing to manually trigger cleaning and now it can be a set it and forget it!
A Clean for Every Pool – This Dolphin is the perfect solution for all pool surface types from types like gunite or fiberglass to any other style you may have installed.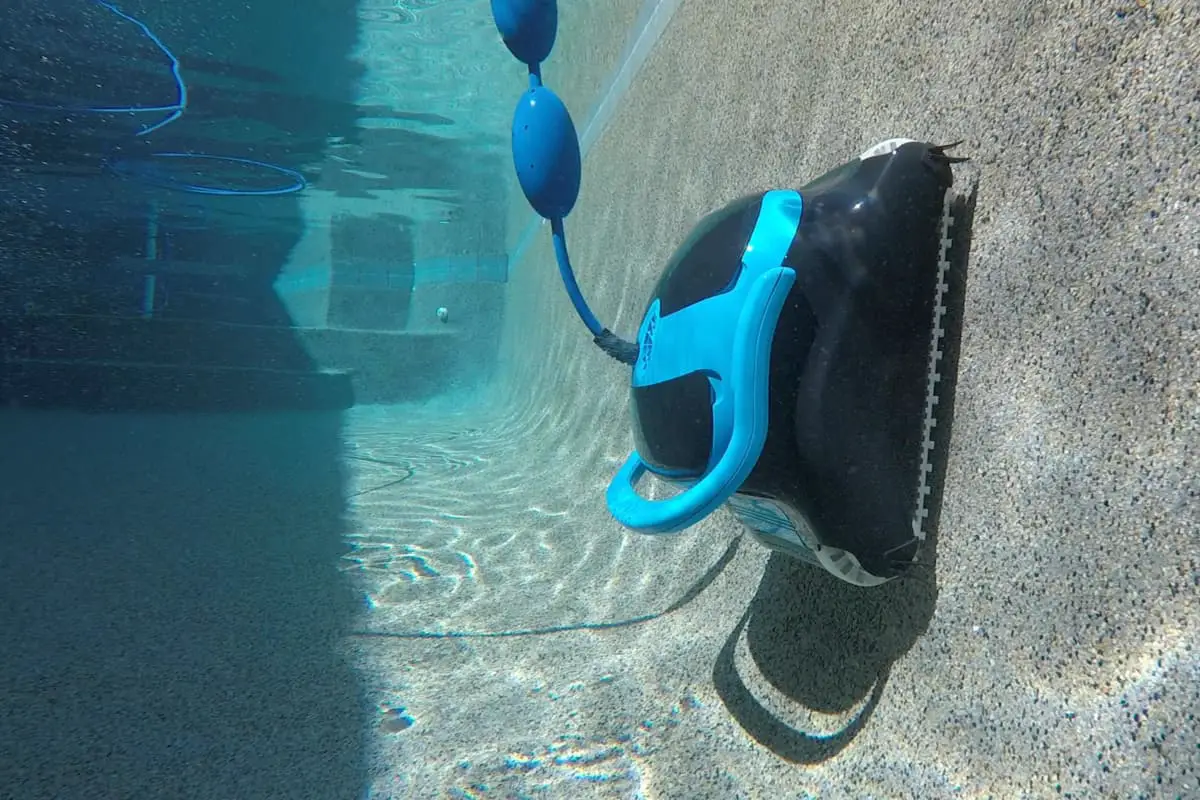 Special Features (Pros) of the Dolphin Nautilus CC Plus
Strong Suction for Cleaning – There is a lot of people that said with gunk buildup on their pools when this was installed it was a single pass and it was clear, they went on to say you could CLEARLY see where the travel path had gone by the areas that had been suctioned clean.
Excellent Traction – As you can see from the image above this robotic cleaner sticks to the walls and can climb to get the highest areas within your pool.
Easy to Clean/Replace Removable Cartridges – The Nautilus CC Plus is exceptionally simple to clean out with a basket area on top to pop open and clear out and the cartridges are some of the simplest out there to swap after they fail.
Drawbacks (Cons) for the Dolphin Nautilus CC Plus
Becomes Disabled/Stuck on Steps – There were plenty of reports that the cleaner could get stuck on the stairs or basically be unable to move and get free and clear to continue on the path.
No User/Owners Manual – Most people have reported that this comes with just a quick start guide. When they go to download the "manual" form the website it is just the quick start guide so there is no direct owner manual.
Cord to Power Supply is Short – The pool cleaner power supply cord is pretty short which required better preparation for cable runs, the manufacturer says that you shouldn't use extension cords so placement is vital in your setup.
Dolphin Nautilus CC Plus Specifications
Pool Attributes
Pool Size
Up to 50 Ft
Pool Type
In-Ground
Cleaning
Filter Type
Fine, Ultra Fine
Filter Description
Cartridge, Top-load
Cleaning Coverage
Floor and Walls
Cleaning Mode(s)
Standard
Cleaning Cycle(s)
2 Hours
Mobility
CleverClean™
Number of Brushes
2 Brushes
Active Brushes
0 Active
Connectivity & Automation
Remote Control
No
Bluetooth / Wi-Fi
No
MyDolphin™ Plus App
No
Weekly Timer
Yes
Cycle Selector
No
Delay Mode
No
Full Bag Indicator
No
Automation Mode
No
Other
Anti-Tangle Swivel Cable
Yes
Cable Length
60 Ft
Warranty
30 Months Limited
Caddy Included
Not Included
Product Weight (robot only)
19 lbs
Video: Dolphin Nautilus CC Plus
---
About the Maytronics Company
Maytronics is the global leader in robotic pool cleaners, holding first place in market share and innovation.
We are entirely focused on enabling pool owners to get the most enjoyment from their pool by providing the best-performing and easiest pool cleaning solutions.
Having pioneered the field of robotic pool cleaners more than 30 years ago, we continue to live and breathe robotic pool cleaners.
Dolphin Nautilus CC Plus Reviews
Looking at the features and benefits is great, but taking a look at what real-and-actual customers have to say about a product offers a deeper dive into insights from buyers and businesses. Here we've curated reviews that reflect the Dolphin Nautilus CC Plus, providing feedback from product users and reviewers on independent review sites as well as online customers.
Independent Reviews and Recommendations for the Dolphin Nautilus CC Plus
The Dolphin Nautilus CC Plus Robotic Pool Cleaner offers quick, highly effective pool cleaning and requires just about nothing from its owner beyond dropping it in the pool. Its price is an investment worth making due to the hours and expense it saves on manual cleaning, as well as the peace of mind knowing your pool is crystal clear without you needing to lift a finger.

Read More…
---
For the price, customers thought they got a lot of value. Some even said this unit cleaned better than others that were twice the price, even oddly shaped pools. They loved how easy the filters were to take out and clean. A few mentioned that they saved electricity by turning off the pool pump while the robot did its job.

Read More…
---
The Nautilus CC Plus is easier to clean when compared to the old Nautilus. It has top load cartridge filters which are easy to remove and clean. The filters do a good job with trapping most of the debris or dirt. The pool robot cleans the floor and climbs the walls even though it does not clean the stairs.

Read More…
---
Strangely enough, this praise stretched from the top-level of reviews down to some of the poorest levels. It's a great pool cleaner. The place where those negative reviews start to separate from the good ones is when it comes to contacting customer service. That was a different story, with lots of unhappy experiences.

Overall, however, the Dolphin Nautilus CC Plus was a very positive experience for people who bought it and left online reviews. People liked it for its value-based performance. If only customer service could catch up, this might be a top-rated product.

Read More…
---
What Online Customers Have to Say About the Dolphin Nautilus CC Plus
Rated year-after-year consistently with good reviews online from stores like Amazon, this robotic pool cleaner comes highly recommended.
There were many people who said they were able to go from junky green pools to crystal clear within days of swapping in their Dolphin Nautilus CC Plus.
---
Overall sentiment is that this is a perfect cleaner for all pool shapes including the odder shaped gunite pools which take more non-standard shapes and still get cleaned like a standard square pool.
---
This robot is great! Just bought it two weeks ago for first time pool owner. Works great. Two types of filters for larger pick up and smaller fine pick up.

Having a yard of dirt the fine filter came in very handy. Easy to operate, clean and store. Doubt I will ever manually vacuum my pool during the season. If needed, run a big clean up and follow it up with a fine clean up.

4 hours no sweat. Great product and I highly recommend to anyone. Totally worth the price point!

From Maytronics User Reviews
---
I built a new pool with travertine paver deck. The pool installers got a lot of sand a dirt in the pool. I put the dolphin cc plus to work on clean up the mess.

It took a double run to clean up the mess because the filters were full. The pool now looks fabulous. Our pool is surrounded by cluster palm trees and a large Mango Tree.

The dolphin cleans all the leaves and actually helps reduce my chemical usage. A pool cleaning company vacuum my pool after it was installed to clean up plaster sand a month after install.

His vacuum worked okay. I put the dolphin in after his suppose cleaning and pickup two filters full of sand. I got the bill for $250 for 30 days work by the pool service and feel the cost of the dolphin is justified in few months.

From Maytronics User Reviews
---
Final Thoughts on the Dolphin Nautilus CC Plus
There is a wide variety of pool cleaner robots available on the market, where the Dolphin Nautilus CC Plus shines is in cleaning non-standardized shapes, walls, and other oddities.
If you are wanting a robot cleaner for the pool you would definitely enjoy this purchase as it has the power and benefits to support you and your ability to enjoy a clean pool for years to come.
Compare to Top Selling Robotic Pool Cleaners
Image
Product
Features
Price

Best-in-Class Cleaning

Polaris 9550 Sport Robotic Pool Cleaner

AUTO POOL CLEANER: The 9550 Sport 4WD provides best-in-class performance and 5 cleaning modes.
IN GROUND: Compatible with in ground swimming pools up to 60 ft.
POLARIS: For more than 40 years, Polaris has been known worldwide for its quality and best-in-class automatic pool cleaners.
PREMIUM CLEANING PERFORMANCE: The 4WD robotic pool cleaner featuring motion-sensing handheld remote, Easy Lift System, dirty canister indicator, and Vortex Vacuum technology for best-in-class cleaning performance.

Check Price

Robotics and Automation Breakthrough

DOLPHIN Quantum Automatic Robotic

Cleaning made convenient. Easy-to-use, lightweight in-ground robotic pool cleaner with a weekly scheduler so you can set your Dolphin to automatically clean for you- every day, every other day, or every 3rd day.
Cleans with ease. Anti-tangling swivel technology allows Quantum to move freely around large residential pools up to 50 feet for an uninterrupted hassle-free clean.
Hugs and scrubs your pool's walls. PowerStream mobility provides a constant grip on vertical surfaces for intense wall and waterline scrubbing, removing tough, stuck-on-dirt for an exceptionally clean swimming pool.

Check Price

Best Budget Choice

DOLPHIN Nautilus CC

Sit back and relax while the Dolphin Nautilus CC robotic vacuum cleans the pool for you. Ideal for small swimming pools, above or in-ground up to 33 feet. This easy to use, compact cleaner will have your pool ready for splashing fun in just 2 hours
Efficiency is key when it comes to pool cleaning. Unlike suction and pressure cleaners, Dolphins are 8 times more energy efficient and do not rely on your pool pump or filter to get the job done. Ditch the pumps and hose and save energy with every pool cleaning
Dolphin does all the hard work for you. Agile and efficient, the Nautilus CC was designed to clean your pool, effortlessly. With superior scrubbing and filtering capabilities, you can relax knowing your pool's floor and walls are left exceptionally clean

Check Price