What Does a Zero Entry or Beach Entry Swimming Pool Mean?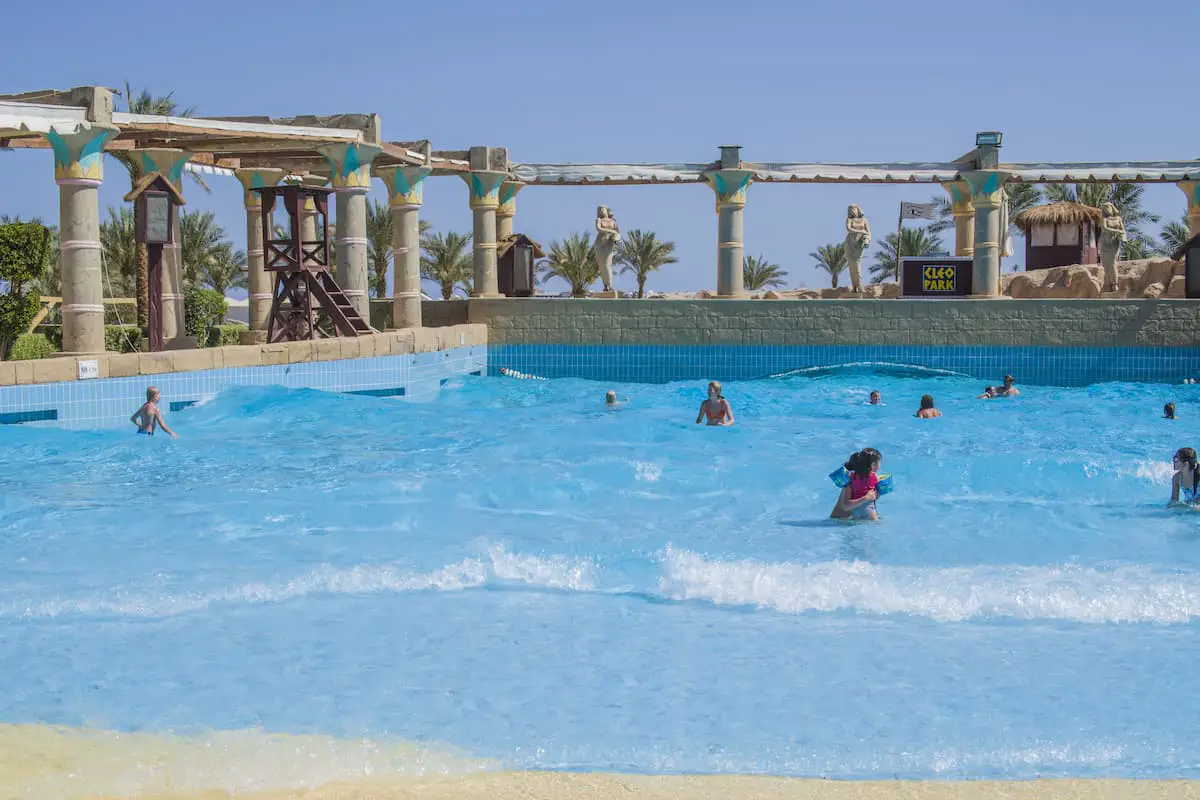 As an Amazon Associate I earn from qualifying purchases.
If you wonder what kind of pool style you should choose for your new outdoor pool and have considered 'Beach Entry Swimming Pool' as an option, this article is for you.
A Beach or Zero entry pool are pools with a gradual slope opening that replaces the steps into the water, usually 24″ to 36″ in-depth. It is designed to let you walk out of the water and go over to the dry ground as they are on the beach.
A beach entry pool is also named a zero-entry pool that has the looks of a beach. As you walk towards the pool, the water will get deeper every step, and it will give you an experience similar to a lake or ocean.
Additionally, beach entry and zero-entry swimming pools are viral because they help give your yard a natural look with your inground pool and natural creek effect.
Some people decorate their beach pool with sand and a few loungers. It provides your decor more realistic and adds a lot of value to the personal space.  
Here, we will discuss in detail the types of beach entry pools, their incredible benefits, cost, and designs, which will help you understand what exactly is a Zero or Beach Entry pool.
Learn How to Manage Your Pool and Hot Tub
Frustrated trying to keep your pool clear? Feeling confused about when to add the right chemicals? Get the perfect easy-to-use, illustrated ebook and video course today!
Benefits of Beach or Zero Entry Pool
Let's see what these pools have to offer:
This pool style is perfect for disabled, aging adults, or small children, as there are no high flights of stairs to climb down.
The gentle slope through a wide entry is designed to prevent accidents, and the transition from pool to sand is barely perceptible.
These pools are safe for younger ones as well, as parents do not have to worry about their kids falling into the pool and drowning.
These pools are very safe as the water is shallow throughout the zone.
Depending on how it's placed, the entry can function like a tanning ledge for sunbathers. Plunging into it will keep you cool while getting the full effects of the sun's rays.
These are the most common benefits that this type of pool has. It also adds to the aesthetics of one's home with its beautiful design.
The Material Used in The Construction:
Zero Entry or Beach entry swimming pools are made from various materials, such as concrete, vinyl, glass, and fiberglass. It is an important decision for the pool owners to choose the required material.
Although fiberglass and vinyl surfaces' initial cost may be less than in-ground concrete pools, it is not necessarily true that they will not last as long when adequately maintained.
Let us dive profoundly and understand what might work best for your pool.
Materials for Deck or Handrails
We know that pool decks come in various surfaces, including concrete, pavers, and synthetic.
But you need to keep in mind that decks built with wooden materials need to be stained and regularly maintained. That's why concrete pool decks are often the most economical material and are very durable.
Stainless steel pool rails are also becoming very popular; they are preferred because they offer a clean and safe surface for swimmers. It is robust and durable and can withstand the most challenging weather conditions.
Materials for Pavers
Pavers beautify your pool deck design. If you're looking for an affordable, low-maintenance option for your inground swimming pool decking, consider fiberglass set up.
Fiberglass pool decks are easy to install, durable, and available in a variety of colors.
Material for Pool Shells
Pool shells are constructed with various types of materials like fiberglass reinforced concrete (FRC), steel-reinforced concrete, gunite, and cast-in-place.
Temperature Maintenance
In icy areas where a single start point may not be enough to prevent water freezing, you can install a heater under the zero-entry pool and wire it into an external wall to keep the water warm.
Other Materials
Other materials may include pool lights, waterfalls, water filters, or purifiers incorporated in the pool to increase its fascination, making it more attractive and naturally pleasing.
Things to Consider While Installation
There are many features to consider in one's decision-making process for these built-in pools, including:
The Slope of the Bottom
The Americans With Disabilities Act (ADA) The standard requires that slopes not exceed 1:12 and depth of 30 inches (with a notable exception of maximum depth if it is less than 30 inches).
Cost
Zero Entry or Beach entry swimming pools will have an average cost associated with their construction range from $50-$125 per sq. ft. In some cases, the average price increases when any additional amenities you choose to add and other features.
Key Safety Features
You can use a pool safety net to keep young children away from a pool's deep end. Several studies show that installing a pool fence around the area reduces the risk of drowning death by more than 80 percent.
You should know that many accidents happen every year with kids slipping and falling into an in-ground pool because they lack proper handrails or steps around the swimming area's perimeter.
Geometrical Shape
Geometrical shapes for beach entry pools include kidney shape to circular outline, rectangular to square, or extra circular. The geometrical shape can be irregular depending upon the area you are availing for pool installation.
Available Space
You should not underestimate the area it will take to give a traditional shallow end. As per building code, the slope must have a 7:1 length-to-height ratio.
As per this, you will need 14 feet long slope to accommodate 2 feet depth. In some places, to save space, they are making the pool with a slope of 8 feet long instead of 14 feet.
But they are cutting the slope and forming a step to deeper water, and saving the space by not extending the hill to the pool bottom.
But now, Beach Entry pools have a shallow end at each opening that gradually grows deeper at its center. Typically, that requires a minimum length of the zero-entry pool to be 32 feet.
Difference Between Traditional Swimming Pool and Beach Entry Pool
This table contains all the significant and minor differences between a beach entry pool and a traditional pool.
| | | |
| --- | --- | --- |
| Sr. No. | Zero Entry Swimming Pool | Traditional Swimming Pool |
| 1 | The stairs are absent. | The stairs are present. |
| 2 | It is suitable for people with disabilities, older adults, children, and pregnant women. | It is not suitable for people with disabilities, older adults, children, and pregnant women. |
| 3 | Shallow water throughout the pool. | Deepwater throughout the pool. |
| 4 | Less stressful for the user and encourage beginners. | More stressful for the non-swimmer. |
| 5 | Smaller in area wise. | Large in size as compared to beach entry pools |
| 6 | Requires less maintenance. | Require maintenance more often. |
| 7 | It takes less time to install | It takes more time to install |
| 8 | Less Input Cost | More Input Cost |
| 9 | The depth range maybe 2′ to 6′, so you can walk right in comfortably | The depth range is 9′ to 12′ center discourage you from walking in |
| 10 | It is preferred to on outdoor location or in the backyard | It is usually preferred in both areas, including indoors or outdoors. |
| 11 | It accumulates less water | It accumulates more water |
Role of Naturalistic Beach Entry
A beautiful pool is a great place for gatherings of family and friends. Imagine yourself spending an afternoon swimming with loved ones or hosting a party with friends and family.
Maybe it's a summer night, and the air is warm. The lights light up the pool, and everyone is having fun splashing around. You could have a party with some music playing and a barbeque!
Whether you are disabled or elderly, zero-step entry helps you in safety and convenience. It looks just like a wheelchair ramp, giving you ease of access to the water.
Besides, beach entries can make excellent locations to sunbathe. Like a Baja shelf, you can create zero entry areas that keep shallow water in place for sunbathers or lounge chairs.
They are also ideal places to entertain young children, like splash pools within the beach entries.
Final Thoughts on Making Your Beach Entry Pool Fascinating
You can choose a sandy beige-colored finish with smooth river rocks as its aggregate. This structure will create the illusion of an entry full of sand while also providing traction on slippery surfaces.
Natural pools have a variety of different entryways. Some have sandy shores, while others are finished in natural stone.
If your collection features a natural stone entryway, you have to choose stones with texture. They are better for traction.
If you are planning a modern pool design, a beach entry can be a stunning complement. For instance, you may choose white plaster for your submerged steps or glass beads to enhance the shinier effect.
In case you possess more room, then a beach entry can be made more attractive and appealing to your swimming pool.
Many people add pebbles, stones, and sand to their pool to evoke a beach-like atmosphere.
Even those who surround their pools with leafy green plants make the whole landscape look like paradise, where one can feel like they're in another world.
The idea is to build a natural spot in a garden with significant visual impact by recreating a natural environment.
You have now come to the end of this article, i hope this article made you more familiar with beach entry pools.
References: