What are Portable Pools: Quick Pop Up Swimming Options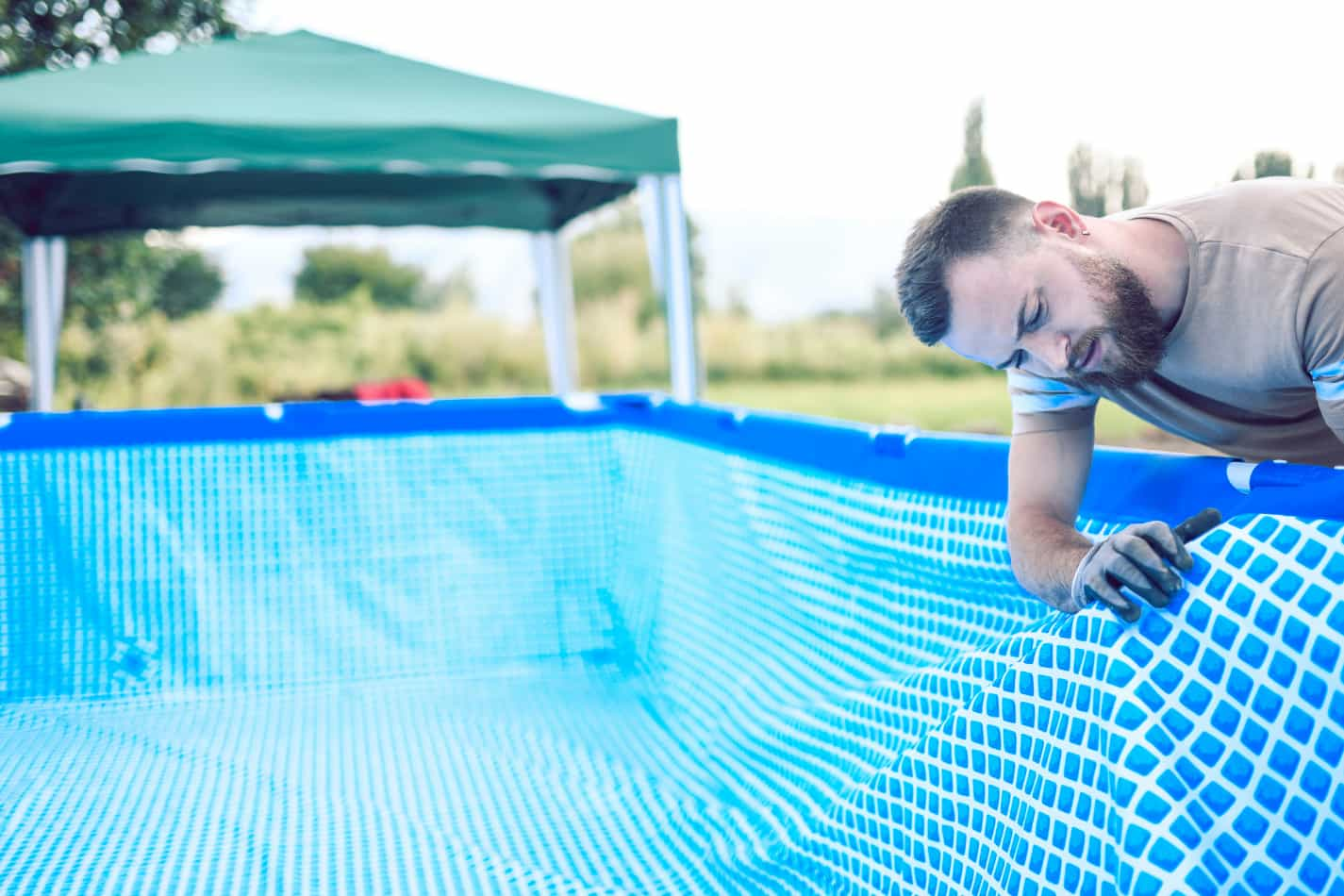 As an Amazon Associate I earn from qualifying purchases.
A new style of above-ground pool known as a pop-up is one of the hottest products for cooling down this summer. The item, which costs a fraction of the price of traditional above-ground pools, can typically be constructed in a couple of hours on almost any properly sized patch of level ground.
Households with such portable pools are all just amazing. They provide a natural gathering area for people and an affordable and cost-effective solution to beat the summer heat for many families.
If you're wondering what portable pools are and what quick pop-up swimming options are, then this write-up is a treat for you. Continue reading to learn more.
Learn How to Manage Your Pool and Hot Tub
Frustrated trying to keep your pool clear? Feeling confused about when to add the right chemicals? Get the perfect easy-to-use, illustrated ebook and video course today!
What are portable pools?
A portable swimming pool is a structure or vessel that is not permanently installed, is portable, and is only used for a limited time.
Portable pools may be acquired relatively cheaply because they require significantly less construction and installation labor, making them a practical and cost-effective alternative for any home.
This appeals to a wide range of singles, couples, and families who enjoy the concept of having a movable pool rather than a permanent pool in their backyard. 
What about the cost, size, and installation of a pop-up pool?
A standard above-ground pool 18 feet in diameter and 4 feet high would cost $1,700 to $2,200 and require professional installation for around $750, but a pop-up pool of the same size would cost $250 to $300 can be built by the homeowner.
Most pop-up pools are king-sized versions of spherical, inflatable baby pools. The pop-ups range in size from 8 to 18 feet in circumference, with larger models reaching up to 48 inches in height. 
The homeowner merely needs to select a smooth, level patch of ground, layout the supplied ground cover, spread the pool out evenly on the cover, inflate the ring that encircles the top of the pool, attach the included filter, and hoses, and add water to complete the installation.
Types of Portable Swimming Pools.
There are three primary alternatives accessible to you if you want to get a portable swimming pool.
Vinyl lining pools
These are the most affordable swimming pool solutions. They're normally composed of resin and supported by a plastic or metal frame, and they need a vinyl liner before they can be used. Pools with vinyl liners come in various sizes, styles, and designs.
Amazing Above Ground Cleaner
ENDLESS SUMMER FUN: Kids and adults of all ages can enjoy swimming and splashing in Bestway's Power Steel Above Ground Pool. It's the affordable alternative to a more complicated steel-walled pool, yet it provides durability and stability greater than inflatable pool options.
SUPERIOR FRAME DESIGN: The pool frames are applied with a rust and corrosion-resistant coating to protect the pool from UV and abrasion damage. A 3-ply PVC support band surrounds the pool for additional stability to the pool wall.
RESISTANT TO BENDING OR LEAKING: The Seal & Lock System is a patented frame design that s each joint connection is secure and won't bend or leak from the water pressure. A pin-clip design is another safety feature to ensure stable joint connections.
NO MORE CHEMICAL FLOATERS: Chemconnect chemical dispenser replaces the need for a traditional floating chemical cleaner giving you more room to swim and have fun! It simply attaches to a valve on the pool wall.
EASY TO ASSEMBLE POOL SET: No tools are required to install this above ground pool in your backyard. A flow-controlled drain valve provides a simple solution for emptying the excess water. Get ready to have hot summer fun in minutes! A ladder, 530 gallon filter pump, a ChemConnect dispenser, and filter cartridge are included in this pool set.
Shipping containers pools
Shipping container pools are becoming increasingly popular. They're made entirely of shipping containers and have a fiberglass pool insert. Because of their long and narrow form, shipping containers make excellent pools for swimming laps.
Small Pools
Small pools, like inflatable ones, are intended to be an appealing alternative to existing portable pools. They come in two different shapes to accommodate most backyards with limited space.
Small pools, created in collaboration with a major producer of full-sized traditional pools and utilizing the most up-to-date swimming pool engineering processes, provide all of the strength and durability of an in-ground fiberglass composite pool without the high cost.
Amazing Above Ground Cleaner
Equipped with the Ground Fault Interrupter, which is an added safety feature that shuts off the pump if electrical current is exposed to water.
Ready for water in 30 minutes, – simply spread out on level ground, inflate the top ring and fill the pool with water.
Water capacity: (80%) 5,455 gallons. Includes: Krystal Clear Cartridge Filter pump, 1,500 gph (110-120V). Ladder. Ground Cloth. Debris Cover.
Set-up and maintenance DVD. Convenient drain plug that connects to a garden hose so water can be drained away from pool or house area.
SUPER-TOUGH laminated PVC sidewalls. New dual suction outlet fittings improve water circulation resulting in better water hygiene and clarity.
Do not set up the pool on sand, mud, or any soft or loose soil conditions.
Pros of Potable swimming pools. 
Depending on your demands, a portable pool has many advantages over a standard pool including;
Price
The cost is the first and most obvious benefit. Purchasing a portable swimming pool is substantially less expensive than purchasing a traditional pool. This is because traditional pools must be constructed in the ground.
On the other hand, a concrete pool must be built from the ground up in your backyard, which is a time-consuming process that might take weeks or months. This comes at a high price, with in-ground concrete pools frequently costing $75,000 or more.
Traditional in-ground pools are less expensive because fiberglass composite pools are less expensive than concrete pools. These are pre-fabricated in factories, so there is less construction labor needed.
However, they still need to be installed in the ground, which necessitates excavation and installation work, which can be costly.
All of this has altered dramatically because of portable pools. Rather than being put within the ground, they sit on it. As a result, the installation of a portable pool is rather inexpensive. All that is required is the installation of a concrete slab to level the ground beneath the pool, which can be completed quickly and easily.
Because the pool is pre-fabricated in a factory, it does not need to be erected from the ground up. This implies that regardless of the type and make of the portable pool you choose, a portable pool is significantly less expensive than a standard pool. Even if you're on a tight budget, owning a pool is no longer a pipe dream.
Affordability
A typical pool might take a long time to install, depending on the style of pool you pick and the size and form of your backyard. A fiberglass composite pool could take a week or more to build, while a concrete pool built from scratch in your backyard could take over a month.
Because you will have builders on your house every day, this might cause a major disruption to your lifestyle. This also implies that you won't use your new pool until the installation is finished.
Both of these issues are not present with portable swimming pools. Most portable pools are provided as complete kits that include a pump and filtration system, making them relatively easy to set up and connect.
After that, you have to fill the pool, and it will be ready to use in just a few hours. You can go about your daily life without worrying about builders in your backyard, and you also have the added benefit of a pool that you can use immediately.
Portability
It may seem self-evident, but one of the primary benefits of a portable swimming pool is its portability. Many of us change homes once or twice during our adult lives, and if we invest a large amount of money on a swimming pool, we'd want to be able to take it with us rather than having to leave it in place if we enjoy it.
Because future owners may not want a pool or the duty and upkeep that comes with it, the flexibility to transfer the pool may make your property more appealing.
If you decide to relocate, a portable pool, particularly one made from shipping containers, can be readily transported. Many of these designs can be readily loaded onto a regular flatbed truck and transported to your new house, allowing you to continue to enjoy your pool in its new settings.
Cons of portable pools
Every swimming pool has its own set of drawbacks and benefits. However, when it comes to portable pools, the style of pool you choose has a big impact.
Maintenance and cleaning
All swimming pools must be kept clean and well-maintained to provide a safe swimming environment for families. There are no exceptions when it comes to portable pools. They require effective filtration and water circulation systems; otherwise, algae might form in areas where the water is not properly cycled. 
Furthermore, it is critical to maintain the proper chemical balance in the pool since underestimating the number of chemicals can make the pool unsanitary, while overestimating can cause skin or eye discomfort. This, however, is true of all pools, not only portable pools.
Pool cleaning and maintenance might be time-consuming, but it is an important component of pool ownership.  
Repairs and damage
Damage is more likely in some pools than in others. Pools with vinyl liners, in particular, can be readily destroyed by heavy use. This implies that rips and tears in the liner may need to be repaired regularly, especially if a family uses the pool frequently.
Vinyl liners typically last five to ten years before needing to be replaced, thus this should be incorporated into the pool's cost.
Aesthetics
Some individuals argue that above-ground, portable swimming pools do not have the same aesthetic appeal as in-ground swimming pools. Because they are not constructed into the ground, portable pools do not blend in as well with the rest of your property's aesthetic.
However, there are a variety of landscaping and decking alternatives available to help an above-ground pool blend in with its surroundings.
Learn How to Manage Your Pool and Hot Tub
Frustrated trying to keep your pool clear? Feeling confused about when to add the right chemicals? Get the perfect easy-to-use, illustrated ebook and video course today!
Conclusion
To summarize, if you want the convenience of having a pool that you can take with you if you decide to move, or a pool at a lower cost than a standard in-ground pool, portable swimming remains the ideal option. And as always, we wish you and your family years of pleasure.