What Are Patio Pools: Choosing the Correct Size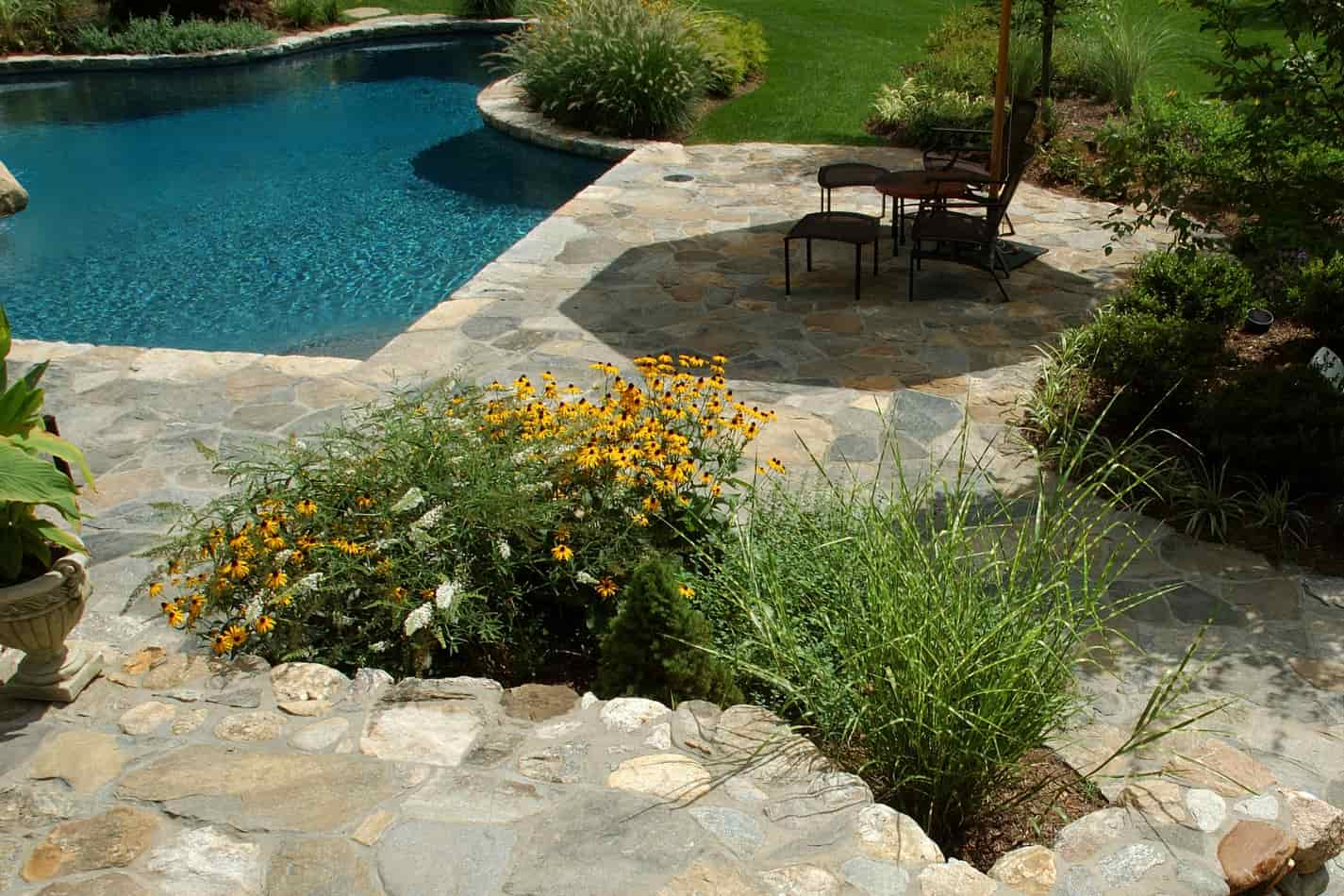 As an Amazon Associate I earn from qualifying purchases.
The dream of having a pool in your backyard is alluring. A swimming pool isn't a status symbol; it's a practical feature for homeowners and continues their living area from inside the house into their backyard, which they use for various activities. 
With a patio pool, you can enjoy the same at-home convenience with a stunning, easy-maintenance landscape. However, smart pool patio ideas are essential when designing a trendy poolscape and making yours a space suitable for relaxing, dining, entertaining, and having fun. One such idea is choosing the correct size for your patio pool. 
In this article, we will discuss what size pool to install and provide you with a few tips to consider when deciding on a swimming pool size for your backyard. Read on to learn more. 
Learn How to Manage Your Pool and Hot Tub
Frustrated trying to keep your pool clear? Feeling confused about when to add the right chemicals? Get the perfect easy-to-use, illustrated ebook and video course today!
What is a patio pool? 
A pool patio is a functional area that allows you to move around the pool and safely enter and exit the water. However, it can also provide enough level space for both seating and dining furniture.
It equally plays an aesthetic role in yard design and should complement your pool ideas, other hardscaping materials, and the house itself to create a harmonious effect.
You can enhance your poolside possibilities for yourself and others by building or enlarging the patio area around your pool (either during or after installation).
This enables extra patio furniture for friends and family surrounding the pool and the addition of complementary items like a barbecue, hot tub, or water feature. 
Tips on how to choose the appropriate pool patio.
You won't be able to get the pool of your dreams until you put out the effort to make the greatest decisions possible. It's critical to consider all of the benefits a swimming pool patio may provide for you and your family before deciding on the appropriate patio pool size for your yard.
Consider the following suggestions:
Patio Pools must feature a shallow and, in certain situations, a deep end for recreational purposes.
Children can swim in the shallow end, while older or more experienced swimmers can use the deep end. This is significant since the pool is likely to be used by people of all ages. A depth of less than six feet is recommended to fulfill most pool purposes.
An 18-foot-by-36-foot pool is ideal for a family of six to eight individuals. This should be enough to avoid overcrowding and allow for gameplay. A rectangular pools patio is ideal for this size.
A 16 foot by 32 foot would be more suitable for a family of fewer than six people. Swimming and casual leisure while staying cool in the pool would be possible with this size pool. This pool size is best suited to kidney, free form, or bean-shaped pools. For this size range, the Coral Sea and Oyster are excellent choices.
If you want a patio pool that allows you to chill and relax if you have a smaller backyard footprint. You can consider a pool that's under the 14-foot by 25-foot size range for that type of pool. Smaller pools like patio pools offer a lot of adaptabilities and take up a lot less area, which is ideal if you have limited space.
Swimming laps are a form of regular exercise; the patio pool should be rectangular. To allow appropriate space for lap swimming and exercise, we propose a minimum length of 30 feet. The swim lane is crucial, but the depth and other characteristics are. Wide swim lanes are available in the Coral Sea and Whitsunday Islands for swimming laps.
Also, the landscape design company you choose to engage with will have a significant impact. That's because they'll be able to help you through some of these crucial decisions by listening to your preferences and needs while also bringing their expertise to bear.
The last thing you want is to choose a landscaping company whose primary goal is to get your pool installed and out of the way as fast as possible. This type of business isn't concerned with your overall satisfaction with the space or even how it appears once they've finished. This could result in chaos—or, worse, a pool and patio that aren't exactly what you had in mind.
Bonus! 
Avoid using any dark-colored paver, tinted concrete, or stone on the patio surrounding your new pool. Although dark red or brown pavers, as well as brick and bluestone, can be attractive, they will attract the sun and become hotter than your tippies can dream.
As a result, if you're going to add any form of hardscape or walkway surrounding or leading to your pool, stick with neutral hues. It will be appreciated by your feet! Because it is lighter/cooler than bluestone but has the same dimensional look and traditional stone patio feel. 
How to choose the deck for your pool.
A new pool and deck can serve as the basis for a magnificent backyard resort where your family and friends can rest, eat, socialize, and live a healthy lifestyle.
Consider the overall design and arrangement of the project, whether you choose decking that merely surrounds the perimeter of your pool or a large installation that allows a variety of backyard features and amenities.
A few elements to consider during this process will help you decide how much deck to build and how to arrange it around your pool and backyard. On various levels, good planning will guarantee that your new deck provides the space and arrangement that your family requires.
Is it okay to choose the smallest size for your pool deck?
To save money, homeowners frequently under-purchase the quantity of decking that comes with their new pool. Avoid making this typical blunder by learning how deck additions are calculated.
Outdoor decking is designed and installed in total square footage, just like carpeting or other flooring materials. (Other considerations influence design, installation, and pricing, including soil grading and specific features like multi-level designs.)
A solid rule of thumb is that a deck should be at least the same square footage as your pool. As an example, consider a rectangle pool that is 15 feet wide by 30 feet long. The deck should be at least 450 square feet with a 450-square-foot pool.
This fundamental method can now be used to address the pool perimeter and the immediate region around a pool as a starting point. 
Some cities have minimal criteria for residential pool decks or laid out around a pool. An experienced pool builder can advise you on any local requirements and create an acceptable deck plan for your project.
Learn How to Manage Your Pool and Hot Tub
Frustrated trying to keep your pool clear? Feeling confused about when to add the right chemicals? Get the perfect easy-to-use, illustrated ebook and video course today!
Conclusion  
To conclude, a pool patio provides an additional area that adds beauty to your pool and can be accompanied by other features and furniture that make the pool more fun and relaxing. And choosing the perfect size is largely controlled by the available space and the amount of furniture you plan to include. 
Thanks for reading to the end. And as always, we wish you the best.