Polaris 9550 Sport Review: Key Features & Performance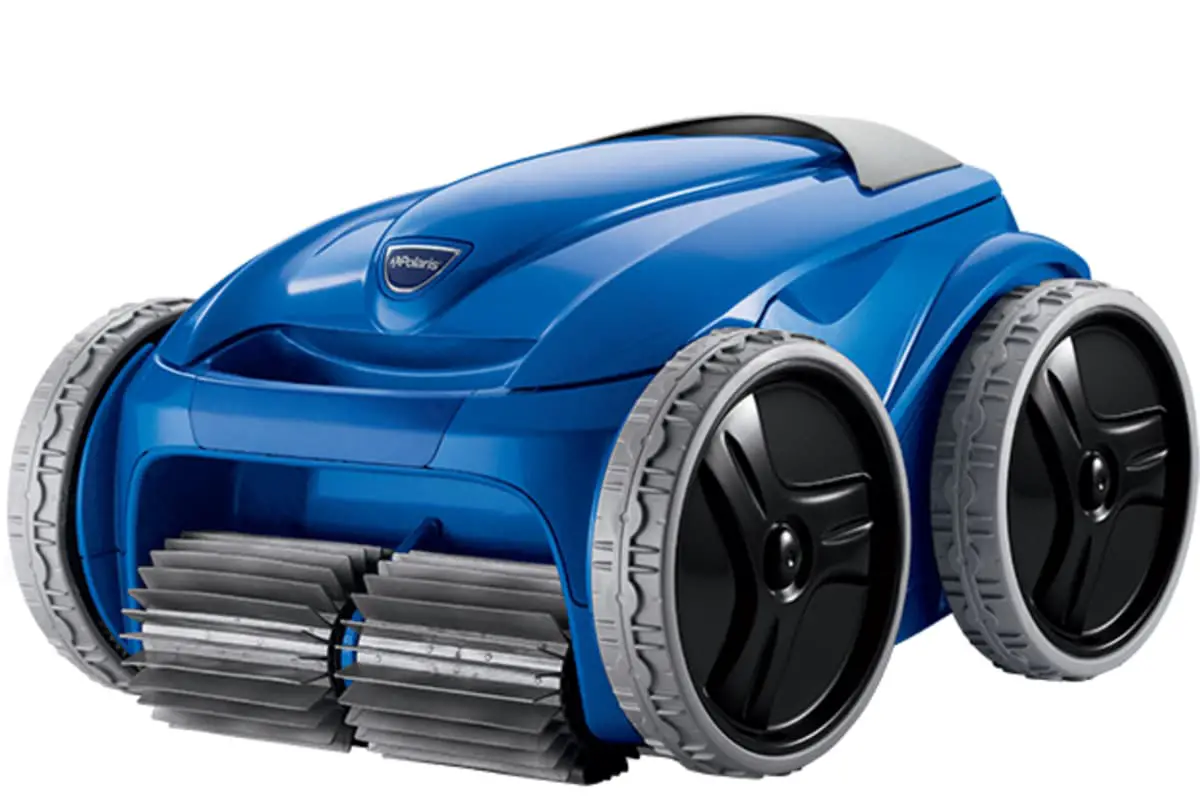 As an Amazon Associate I earn from qualifying purchases.
If you hate cleaning your pool constantly due to the leaves and other debris in the pool then this may be your perfect pool partner! The Polaris 9550 is a top-of-the-line robotic pool cleaner that is able to scan and clean your entire pool in short order.
While choosing a robotic pool cleaner for your pool you want to find a powerful machine that can do a single pass and give you enjoyment without spending hours of your time in return to manage cleaning.
The Polaris 9550 Sport 4WD robotic pool cleaner provides best-in-class cleaning performance and features. The absolute top-of-the-line 9550 Sport tackles any pool terrain, climbs steps and walls, and scrubs tile line with a solid-blade scrubbing brush. 
Best-in-Class Cleaning
AUTO POOL CLEANER: The 9550 Sport 4WD provides best-in-class performance and 5 cleaning modes.
IN GROUND: Compatible with in ground swimming pools up to 60 ft.
POLARIS: For more than 40 years, Polaris has been known worldwide for its quality and best-in-class automatic pool cleaners.
PREMIUM CLEANING PERFORMANCE: The 4WD robotic pool cleaner featuring motion-sensing handheld remote, Easy Lift System, dirty canister indicator, and Vortex Vacuum technology for best-in-class cleaning performance.
WHAT'S INCLUDED: Comes equipped with a 70ft cable w/ tangle-reducing swivel, an extra-large 5L debris canister, and a handheld remote control. Premium caddy included.
Here's a rundown of what we'll provide in this Polaris 9550 Sport review:
First, we'll share the features and benefits that you'll find useful
Next, we'll take a look at the drawbacks you might need to know about
Then, we'll tell you a bit about the Polaris company
And finally, we'll provide a sampling of actual customer feedback along with Independent reviews to give you better insight into the product.
Sound good? Let's get started!
Features and Benefits of the Polaris 9550 Sport
Motion-Sensing Remote – Responsive cleaning control in the palm of your hand.
Easy Lift System – With the touch of a button the 9550 surfaces to a desired location and waits for you to grab it, then automatically evacuates water for effortless removal from the pool.
Dirty Canister Indicator – No more guess work. Know immediately when it's time to empty the filter canister.
Vortex Vacuum Technology – Keeps debris suspended for long-lasting suction and superior cleaning performance.
Easy Clean Filter Canister – debris can easily be emptied with a simple shake and spray convenience.
7-day programmable timer – fully customizable set it and forget it cleaning modes.
ActivMotion Sensor® – automatically controls robot's position at all times, allowing complete cleaning coverage without any hang ups.
4-Wheel Drive Technology – cleans pool floor, walls, and scrubs tile line with a solid-blade scrubbing brush.
Waterline Only Cleaning Cycle – for isolated tile line scrubbing.
Special Features (Pros) of the Polaris 9550 Sport
Smart 7-day Programmable Timer – Fully customizable cleaning cycles that allow pool owners to set it and forget it. With just a simple setting, you can clean the pool as frequently as you like and enjoy a pleasant, healthy pool all the time
Dirty Canister Indicator – Easy to access with cleaning. You simply press a button that pops open the lid, lifts out the canister, opens it up, and shakes out the debris. Any dirt or hair that collects on the screen can be easily washed away with a hose.
The Lift System – This is a button that tells the robot to stop what it is doing and return to the side of the pool. It will climb this wall and then wait for you to remove it using the handle. As you begin pulling it from the water it will eject the water from the filter back into the pool.
Drawbacks (Cons) for the Polaris 9550 Sport
Not Fit for Above Ground Pools – The Polaris 9550 is built for in-ground pools only so you will need to look for another pool robot for an above-ground pool.
Not a Non-Tangle Cord – The cord has no swivel to ensure the setup doesn't get tangled which can cause some issues for people with oddly shaped pools when it passes over itself.
Video: Polaris 9550 Sport 4WD Robotic Pool Cleaner Review
---
About the Polaris Company
For more than 40 years, Polaris has been known worldwide for its quality and best-in-class automatic pool cleaners. They continue to make and improve each model to ensure they stay top of class.
Polaris 9550 Sport Reviews
Looking at the features and benefits is great, but taking a look at what real-and-actual customers have to say about a product offers a deeper dive into insights from buyers and businesses.
Here we've curated reviews that reflect the Polaris 9550 Sport, providing feedback from product users and reviewers on independent review sites as well as online customers.
Independent Reviews and Recommendations for the Polaris 9550 Sport
Automatic pool cleaners are pretty expensive, but they do get the job done. With a bit expensive but affordable price-tag, you might have your doubts regarding the Polaris 9550 but rest

Pool Cleaner Lab
---
Without a doubt, swivels are favorites by pool owners. Constant tangling of the cord is the main issue that needs to be addressed and fixed.

Polaris F9550 Sport is still very much worth your investment? Yes, it offers great results and this cleaner delivers an advanced cleaning performance

Best Robotic Pool Cleaners
---
Robotic pool cleaners really don't get much better than the Polaris 9550 Sport. It's a top of the range robot is loaded with an inventory of brilliant features to ensure you have a dust and debris free pool all season long.

Home Hot Tub Guide
---
What Online Customers Have to Say About the Polaris 9550 Sport
Rated year after year consistently with good reviews online from pool owners, this robotic pool cleaner comes highly recommended.
This thing is awesome. The thing sucks up everything! I was blown away when I took out the basket. It sucks up the fine particles of sand that my little 280 wouldn't. It even brushes the sides of the pool for you. Easy to clean also. Pricey-Yes! Worth it-Absolutely!!!!

Birdeye
---
I bought the 9550 in 2017 and this has been my 4th season. The 9550 is still going strong! I have a large in ground pool, and this is my ONLY cleaner, and it picks up everything from small particles to large leaves.

Not sure how this knows to cover every inch, but it does. And, it's easy to use. My wife and I can easily put it in, hit 'start', and come back in a few hours to a perfectly clean pool. Best investment in pool equipment.

Birdeye
---
Final Thoughts on the Polaris 9550 Sport
This pool robot is the Zodiac Pool Systems' flagship cleaner as it is built from the ground up to offer outstanding cleaning performance, a motion-sensing remote, and plenty of programming options.
Polar's innovative Lift System for controlled water removal makes it simple to remove the robot from the pool when the cleaning cycle is complete, and cleaning the debris basket couldn't be easier.
When looking for a high-quality pool robot to clean and maintain your pool you can't find a better device than the Polaris 9550 Sport, grab yours today and start enjoying the pool more!