How Travertine Pool Decking Should be Cleaned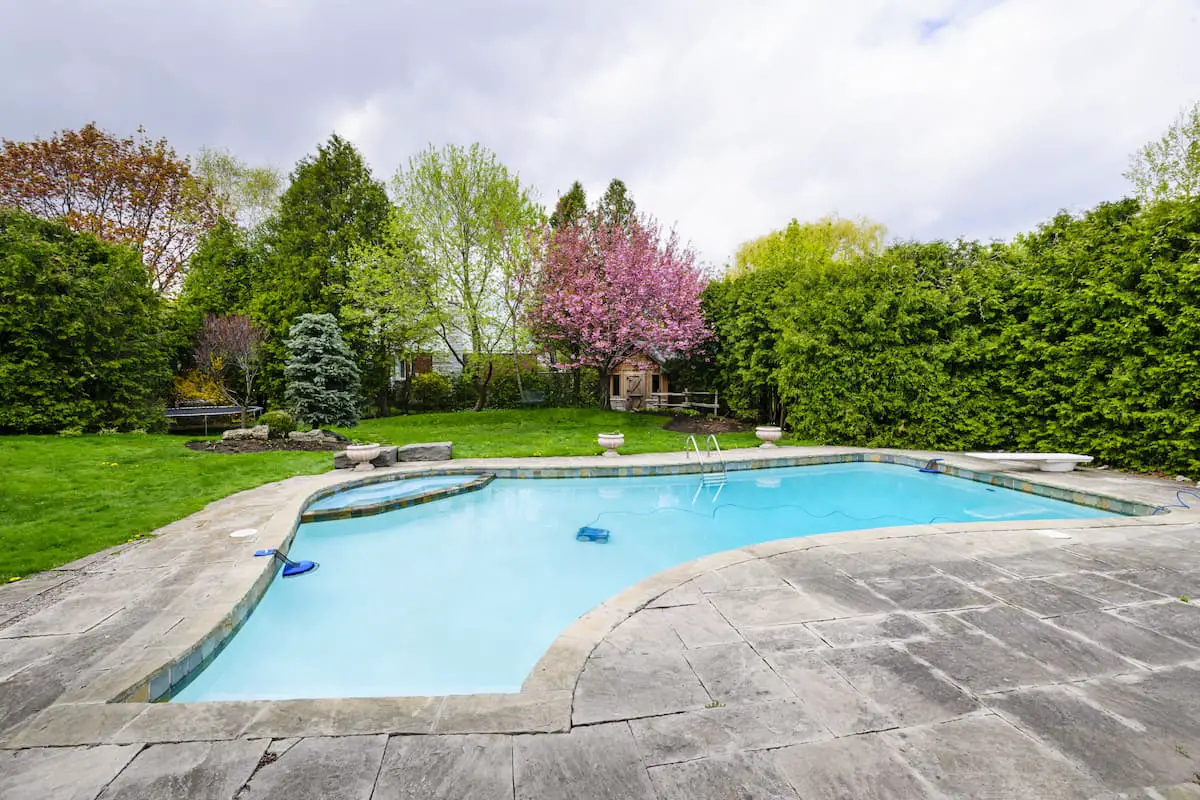 As an Amazon Associate I earn from qualifying purchases.
Travertine stones are extremely durable and aesthetically beautiful for backyard pools. These stones are absorbent to water and not as slippery as normal tiles. This makes them the perfect choice for your house; if you have kids or party a lot by the poolside.
For their porous nature, the stones will absorb dirt that comes with the water as well. So, the question stands, how to clean a Travertine pool deck?
You want to first rinse off surface dirt with clean water to remove debris and dirt. Then you can use a pressure washer to deep clean the caked-on dirt, if you need to you can use Travertine cleaners for more cleaning power. Ensure you clean outdoor Travertine at a minimum once per year.
These tiles do not require a lot of maintenance like other regular ceramic ones.  Although, it is wise to spend some time behind them, to make them last as long as possible.
To know more on how to clean and maintain your pool deck, keep on reading.
Learn How to Manage Your Pool and Hot Tub
Frustrated trying to keep your pool clear? Feeling confused about when to add the right chemicals? Get the perfect easy-to-use, illustrated ebook and video course today!
Cleaning Your Travertine Pool 
Keeping your travertine pool looking as good as new is going to take some dedication on your part. Daily cleaning and deep cleaning every few months should make your travertine pool last longer.
So, here are some things you can do to clean your travertine pool:
Sweep Your Pool Deck
Sweeping or dry dusting is very important because there can be sharp objects lying around on your deck that might eventually leave scratches and ruin your beautiful pavers.
So, if you want to maintain a spotless deck, then regular sweeping is a must. Use a broom or brush to sweep off the dirt from the upper surface part. Later, with a hose, wash off your deck with water.
If you have never deep cleaned your Travertines, then this method would not get rid of the dirt that is stuck in between the pores. It's only going to help clean the upper parts of your deck.
Do not use high-pressure water with a pipeline, as it can make the dirt particles go deeper into the grouts and pores. Eventually, making it more difficult to clean later.
Identify Stains Before Using Chemicals
Stains can come from anything; for example- spilled wine from a party you had, barbeque sauce or oil from a gathering you arranged, and so on.
Before using any harsh chemicals, understand the kind of stain, so you can use the proper cleaning methods for it.
If you end up using the wrong techniques, it can lead to a permanent stain or worse- damaged Travertine pavers.
Try to wipe off the object that falls onto your deck immediately as the first step. Let's suppose the stain is from oil, so wipe it off first and then use a gentle to low pH washer for the stain it made.
Do not directly put any chemicals on the floor. Either dilute it with water or put a little bit on a paper towel and wipe it off. P.S. Acetone and Poultice Powder work for most stains.
Pressure Wash Away the Deep Grime
Many homeowners, will have a pressure washer they keep to help clean on the hard-pressed soil and grime. This will obviously trigger them to wonder, can you pressure wash the Travertine pool deck?
Travertine tile can be pressure washed with a specific caveat, you need to make sure you are running your pressure washer on the lightest pressure setting to ensure that you don't damage or remove sealant on your Travertine tile.
The reason why people debate this topic is mostly due to the issues of using too much pressure and needing to reseal the pavers again after the pressure washing process.
So many don't prefer it. However, it is one of the best ways to deep clean your travertine pool decks. You don't even need high pressure for it, just a light wash would do the trick as well.
So, yes, absolutely you can use a pressure washer to clean your Travertine pool tiles and coping. If you don't have the machine or don't know how to use it, then you can hire professional workers to do the job for you.
It is advised to purchase stone tile sealers for safety, in case you have to reseal your deck again. A reminder- you'd need one pressure wash, in every one to three years. So it's an investment.
Natural Stone Cleaners
There are hundreds of stone cleaners available in stores for cleaning natural stones like Travertines, so purchase one of those or consult with your supplier to know which type of cleaner will suit your deck.
As Travertines are a member of the limestone family, hence, you should never use anything acidic to clean them. It will permanently ruin your floor.
Again, before purchasing one, read the labels to make sure there is no chemical that can bleach your floor, for example, ammonia.
If you want to make a homemade cleaner then you can try this formula- fill a bucket with lukewarm water and some drops of a liquid dishwasher.
The warm water would cut through dirt and grease, while the dishwasher would gently clean the pavers.
Cleaning the Grouts
Grout cleaning is just as important as floor cleaning. A soft-bristled brush works great in this case if you don't clean the grouts regularly.
Balanced sulfamic acid and phosphoric acid cleaner can be used, as per the instructions of the labels.
As mentioned, acidic cleaners should be avoided, but these two are extremely effective for grouts only. So be careful while using.
No matter what cleaner you end up with, always rinse and dry off the area you have cleaned thoroughly. A proper polish would also do wonders after the cleaning process.
If you don't want to mess with acidic cleaners, then you can always go back to mild detergents or dishwashers as they are not very strong and will keep your pavers as beautiful as ever.
Poulticing Affected Areas
Absorbent materials such as chalk, fuller earth, and white molding plasters can be easily used as poulticing your pavers. Mix your chosen material with distilled water to create a thick and smooth paste.
Leave it directly on the stains for 24-48 hours; depending on how strong your strain is. Put a plastic wrap over it, but leave some area for air ventilation as well.
When the poultice is dried completely, rinse off with clean room temperature water and pat dry the surface. If the strain or scratch is still visible repeat the process up to 5 times, but not more than that.
You can also choose different materials if your previous choice did not work. However, buffing and polishing after the poultice process usually work every time.
Easy Maintenance Tips for Your Travertine Pool Decks
Travertines are pristine to look at. Whether they are installed indoors or outdoors, it would add that extra spark that your home needs.
As mentioned, a proper maintenance routine for these pavers would eliminate your cleaning time drastically and keep them secure for years. By following these easy tips, you can last your precious travertine for a lifetime.
Weeding: Occasional weeding is necessary if Mother Nature decides to take over your decks. Carefully pull out the grass and weeds with their roots. Later, apply chemical solutions to stop future growth.
Sealing: Adding additional sealant will give your pavers more security from any type of damage, e.g. the exposure of chemicals, snow, or the sun. It will also ensure better durability and shielding.
Disinfecting: If you have kids or pets, you should disinfect your pool area frequently. Pool water can contain harmful bacteria, so disinfecting while mopping your deck is recommended.
Repairing: Repairing small cracks as they happen, is better because these cracks tend to get bigger with time. It will cost you more money and effort if you wait on them. Use Epoxy instead for fixing it.
Learn How to Manage Your Pool and Hot Tub
Frustrated trying to keep your pool clear? Feeling confused about when to add the right chemicals? Get the perfect easy-to-use, illustrated ebook and video course today!
Conclusion
Travertine is some of the most beautiful tiles or pavers you can think of when it comes to pool decks. It does not get slippery or get hot under the blazing sun. It will last a lifetime if you can take care of it properly.
I hope this article has helped you to understand much more about cleaning a Travertine pool deck, and how to maintain its quality almost effortlessly. Cheers, and stay safe!