Fiberglass Pools: Why Depth Matters for a Diving Board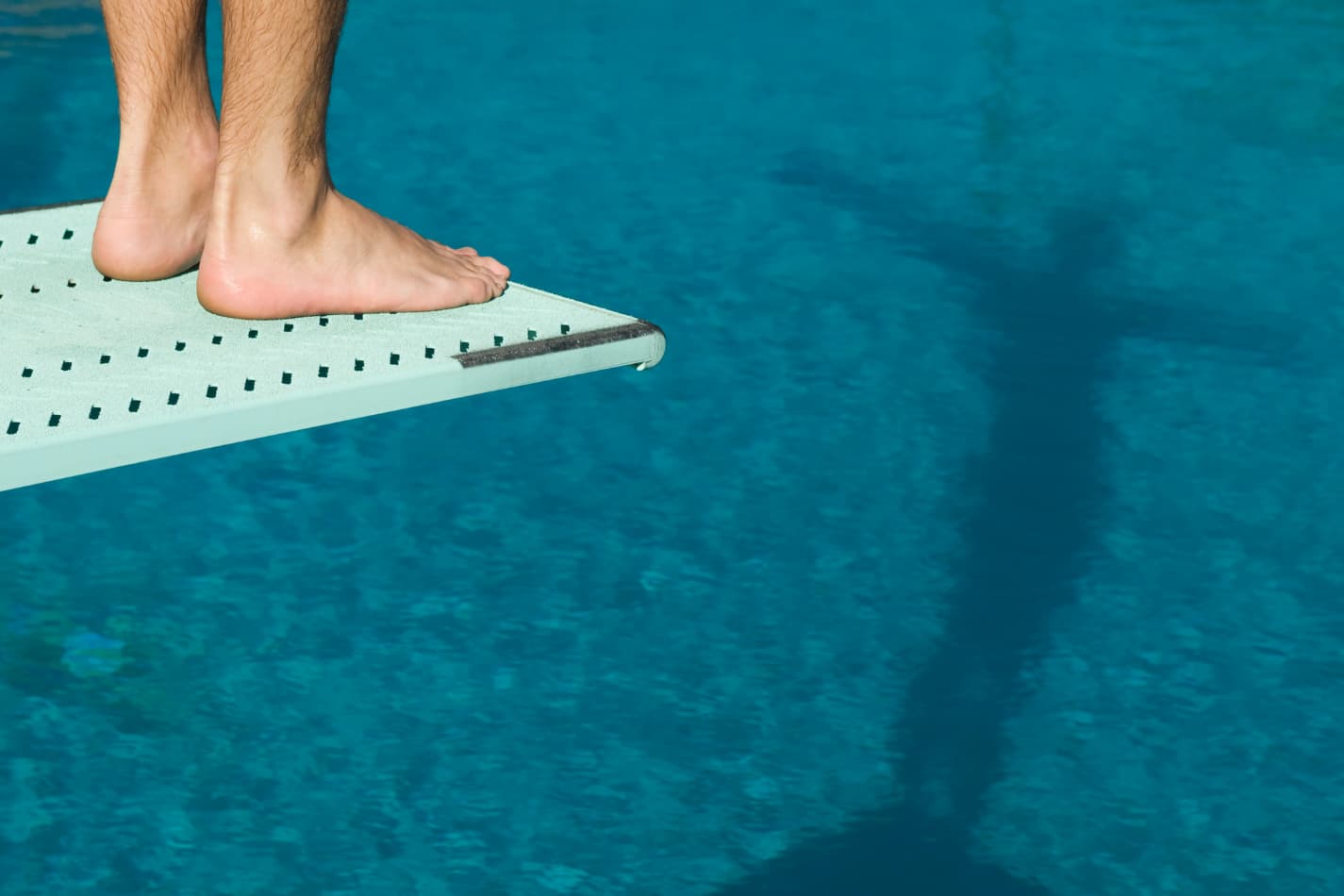 As an Amazon Associate I earn from qualifying purchases.
Summer is here in full force. The sun is shining brightly, the beaches are crowded, and you can't wait to cool off in your new backyard pool. A backyard pool is a lovely luxury that provides a quick method to cool off in the hot summer weather.
But what might make a pool even more enjoyable? A diving board. Diving boards can provide you and your family with hours of fun in your backyard. But can you have a diving board with a fiberglass pool?.
The short answer is yes. Pools are constructed in various shapes and surfaces using various materials, the most crucial factor to consider being their depth. Pool owners cannot just place a piece of wood at the edge of the pool and call it a day. There are rules to follow, such as ensuring that the pool depth is appropriate for a diving board.  
The depth of a fiberglass pool is mainly determined by its size. Smaller pools are frequently shallower than larger pools. A pool with an 8′ deep end will naturally be 40′ long, allowing it to be used for diving. Read on to find out why depth matters for a diving board.
Learn How to Manage Your Pool and Hot Tub
Frustrated trying to keep your pool clear? Feeling confused about when to add the right chemicals? Get the perfect easy-to-use, illustrated ebook and video course today!
Why Depth Matters for a Diving Board
Aside from the pool's depth and size, there aren't many more rules that will restrict you from having a diving board in your fiberglass pool. A diving board may be made to fit almost any pool shape and can be used to provide as much dimension as you want.
But it should never be included in above-ground pools because they aren't built deep enough to withstand it. If you're transferring an older diving board from another pool, be sure your new pool can accommodate it before just installing it.
Prerequisites for Owning a Diving Board 
A large aspect of diving board safety is determining the proper depth. If your pool isn't deep enough, diving off a diving board can result in significant harm. To install a diving board securely, most pool manufacturers recommend that you have at least an 8′- 9′ deep pool. 
Tip: The depth required for your pool is also determined by the form and size of your pool.
The entire pool does not need to be this deep; only the section directly below the diving board needs to be this deep so that the diver may dive without striking their head on the pool's bottom.
Concerns about the structure
Simply put, if you jump into the pool headfirst, you will hit the water with more gravitational force, allowing your body to travel to a greater depth. According to the American Red Cross, most diving injuries occur in less than 5 feet of water.
As a result, the depth of a diving pool is critical, as it might result in head injuries or paralysis if not taken into consideration. Of course, the diving board used has a significant impact on how deep the pool should be. 
Improving the Safety of you Fiberglass Pool for Diving.  
Many pool owners have decided to remove the diving board these days. Although some people shun diving boards for aesthetic reasons, this is mostly because of safety concerns. 
However, as long as you inform your pool builder that you want to use it for this reason, diving can still be a thrilling aspect of the home pool experience. Your pool contractor will go over the necessary safety requirements with you to ensure that your pool is up to code.
The aspect of depth has already been discussed; we will look at pool dimensions and slope on the walls below.
Pool Dimensions (Length and Width);  Only pools that satisfy the minimum length and breadth requirements are considered safe to dive in. According to the American National Standard for Residential In-Ground Swimming Pools, all house pools with a diving board must be at least 16 feet wide and 32 feet long.
Slopes on the Walls; The slope is another important safety consideration. Wall slopes greater than a 1:5 slope ratio to a transition point are prohibited under the residential pool code. This transition point should be at least two feet and nine inches below the water's surface.
Pool dimensions and slopes on the wall are important to be mentioned here because these two directly or indirectly determine the depth of the pool.
Usage: The need for a diving board pool varies, whether it is for home use or probably for outdoor fun. It also depends on the size and ages of the members of the family. If it is for private home use then, the age of the members of the family must be considered in determining the various depths and types of diving boards as it will not be safe for little kids and older people to dive on diving boards not appropriate for their ages. It will then be the decision of the family to decide whether and which type of diving board to be included in their pool. 
Other Measures to Consider
In the first place, you should check with your local Homeowner's Association to see if you can install a diving board. Because of the inherent safety hazards, many people are wary of diving boards. To avoid wasting time, make sure you understand your local rules and regulations.
Decorative pools can occasionally cause issues with diving boards. Because of their unique shapes, dimensions, and materials, they are more difficult to install boards on safely.
Diving boards are only intended for use in in-ground pools. Because the depth of above-ground pools is so limited, a diving board should never be installed. Without the proper depth, serious injury can occur, so if you only have an above-ground pool, give up your diving board dreams or build a new pool.
Before going diving board shopping, have all of your pool dimensions, specifically the length, width, and height, as well as the width of the pool's longest side, on hand (the side you should install your diving board on). Diving boards come in various materials, lengths, and slopes, so knowing your numbers ahead of time will save you a headache.
If you enjoy diving headfirst, make sure the pool is at least 9 feet deep. If you're jumping another way, 8 feet deep is perfectly acceptable.
Learn How to Manage Your Pool and Hot Tub
Frustrated trying to keep your pool clear? Feeling confused about when to add the right chemicals? Get the perfect easy-to-use, illustrated ebook and video course today!
Conclusion
Whether it is a vinyl or a fiberglass pool for indoors or outdoors use, the need to include a diving board is up to the user. Diving boards can indeed provide hours of entertainment for friends and family in your backyard.
The activity brings people back to their childhood when they were carefree and only concerned with who could make the biggest splash. However, before the fun can begin, the user must consult with the pool contractor to install a diving board.
This ensures that all the requirements and recommendations are met from purchase to installation to ensure the beauty, and safety of using the diving board for maximum enjoyment.