Fiberglass Pools: Adding Beauty and Style With Tile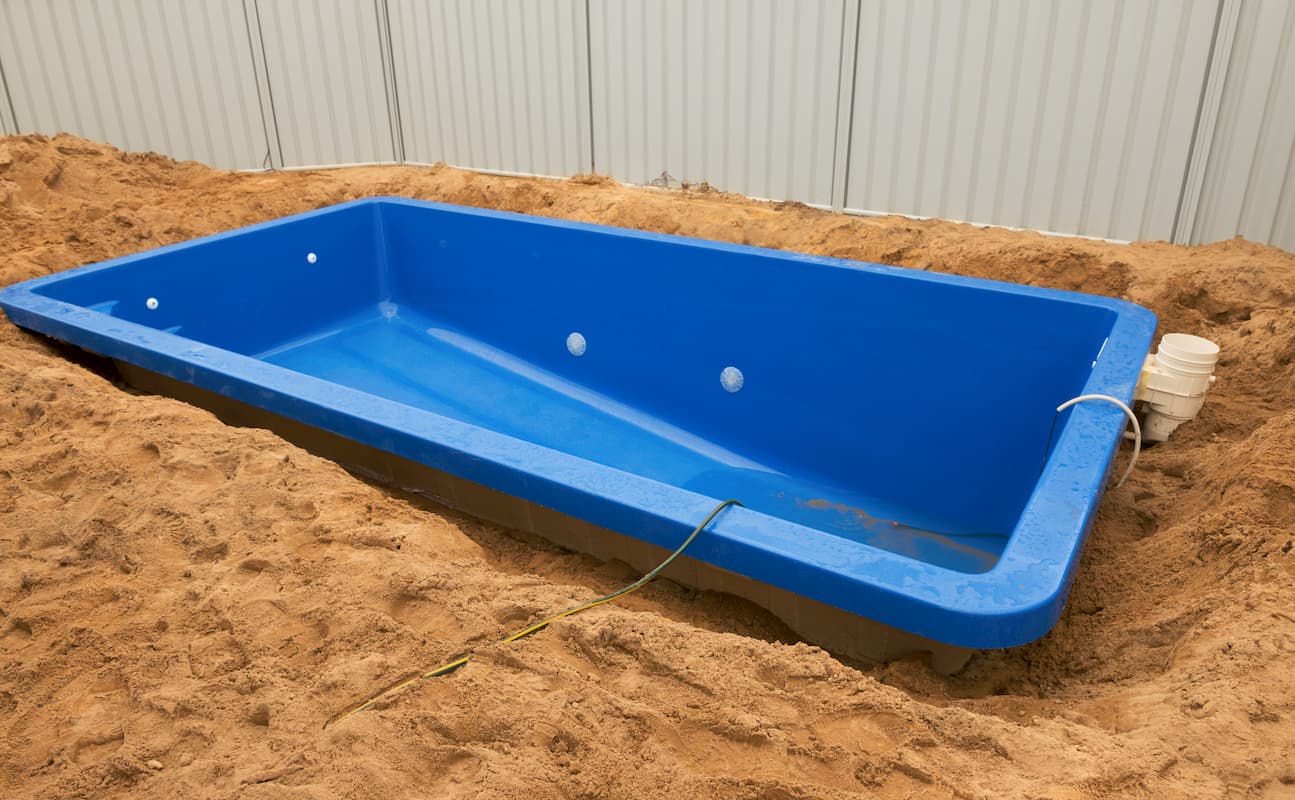 As an Amazon Associate I earn from qualifying purchases.
Tiles can give your pool a peculiar look and your backyard attractive to look at. They're known for adding beauty and style to your pool in a relatively straightforward method. Regardless of the design you like, tiling a fiberglass pool is a simple project that does not necessitate extensive technical knowledge.
 Among the questions pool owners ask is whether or not you can tile a fiberglass pool. The quick answer is Yes! You may tile a fiberglass pool to add some elements of beauty, style, and robustness to the entire structure, which will undoubtedly call for a notice from anyone entering your yard.
While the materials used to make it appear sophisticated, placing tiles on a fiberglass pool isn't difficult. The method is essentially the same as for standard tile installation.
You can execute this feat without any stress or harm to your pool if you have the correct tools, process, tile, and determination. Most significantly, you'll need to check the weather forecast to determine the best day to grout, and you'll also need to recruit one or a few assistants to assist with the grouting.
As a result, your job will be completed in the least period feasible. Also, tiling your fiberglass pool has many advantages. Read on to learn more.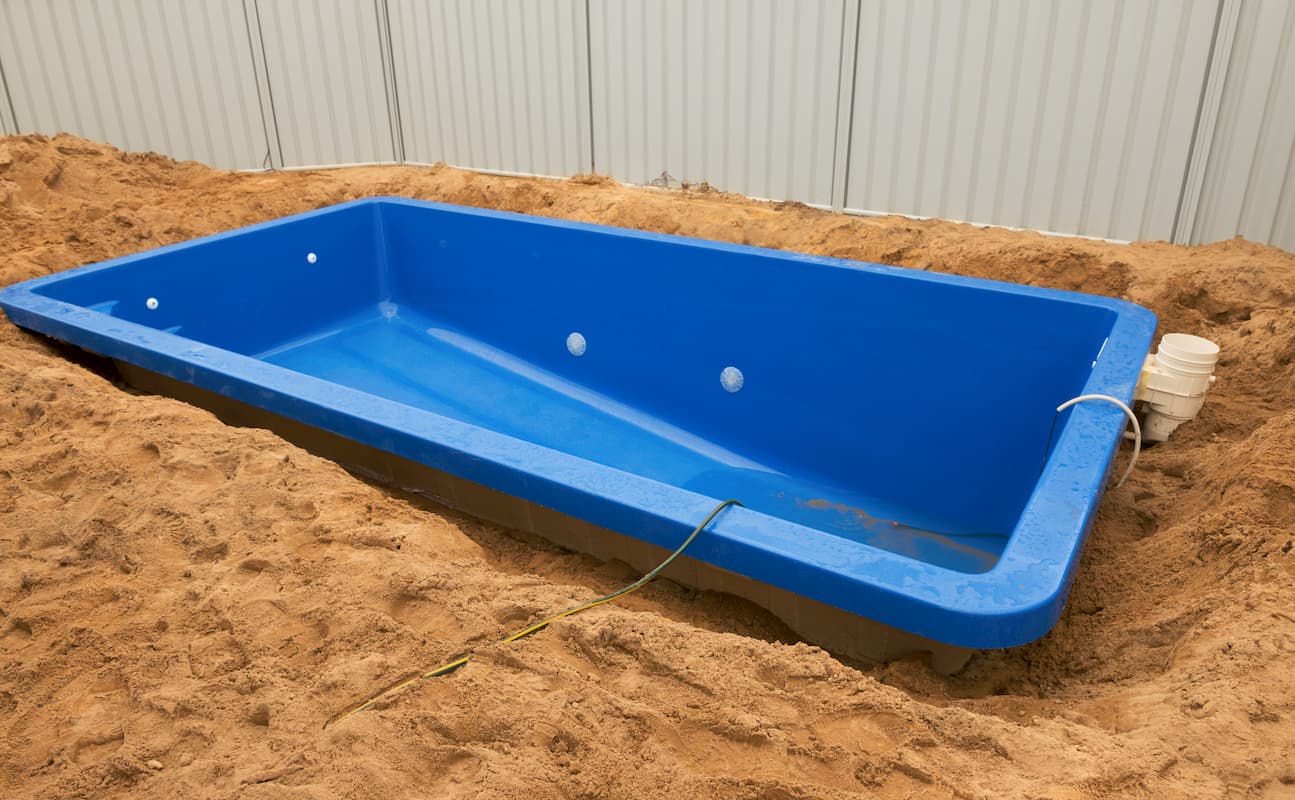 What are the different types of fiberglass tiling?
In general, there are three main methods for tiling fiberglass pools. They include the following:
Tiling on the Water Line
 Waterline tiling is laying one or more rows of tile around the pool's upper edge, where the waterline will be. This type of tiling can be used to make the tile a part of the entire pool. The following are some of the benefits of adopting waterline tiling:
The tiles complement and enhance the appearance of fiberglass pools and spas.
There are many different colors and styles to pick from.
Cleaning silicone and tile grout is simple ( it simplifies the waterline maintenance)
Over the Lip (Inlay) Tiling
In this type of tiling, the fiberglass pool has recesses for the tiles, and each tile is trimmed to fit into the recess. The following are some of the benefits of inlay tile:
With a sponge or moist cloth, you may clean both the grout and the tile. Grout will never break, detach, or discolor in this situation.
You don't need to wax the exposed fiberglass lip.
The tiles will not grab your bathing suits as opposed to bricks or cantilever cement.
Every tile installation that uses the over-the-lip method is custom designed to match the pool, the customer's needs, and the deck.
The tiles and colors are carefully chosen to ensure that the mud cap, lip tile, and waterline all have an appealing color combination for a great match.
The installation can take place either in the factory or on-site.
Tip: The problem with inlay tile is that having a new custom tile to suit the tile recess can be very expensive when the tile comes out. Especially if you created something truly unique, such as an animal shape.
 Custom Tiling Throughout
For maximum durability and luxury, this sort of tiling entails working on the full surface of the fiberglass unit.
However, you may need a bunch of things to complete the task, including; Bucket, a helper for grouting, dish soap sponges, silicone tile adhesive, nylon scrubbing pad, epoxy rubber grout float, acetone, silicone rubber grout, piece of cloth, and pool tile sheets of about 6-by-12-inch. 
It's necessary to note that each tiling type has advantages and disadvantages. It will be at the discretion of each pool owner to decide which type to use.
A great idea will be to discuss with a fiberglass pool tiling professional.
Types of tiles used in tiling fiberglass pools
Various tiles types can be used to tile a fiberglass pool. Below, three of the most popular have been discussed. The type chosen by each pool owner may depend on the owner's taste and budget.
Porcelain and ceramics tiles
 Ceramic and porcelain tiles are versatile, whether large or small, smooth or textured, basic blue or vibrant, and energetic. Ceramic and porcelain tiles are also the most cost-effective and long-lasting tile alternatives.
They can be used in various ways to add aesthetic appeal to a pool without breaking the bank.
Stone tiles
Stone tile will be the best for you if you want a natural, textured surface for your pool deck. It's a very inexpensive and beautiful option to finish your backyard design, with everything from cobblestones and pavers to granite and limestone.
Slip-resistant stone is commonly used around pools, and it warms up pleasantly in the sun.
Glass
Glass is one of the more expensive forms of tiles, but it is also one of the most attractive; this property has made it more popular in present times. Small quantities of glass tiles are frequently utilized to create striking visual effects.
Glass's reflecting and translucent characteristics combine to give it a depth and a seductive glitter that no other material can match.
Metal
Metal tiles can be utilized to produce amazing works of art, albeit they are most typically employed as an accent rather than to cover enormous regions.
Any tile installer can assist you if you prefer a more traditional pattern. However, if you want to be more imaginative, you should consider hiring a professional tile artist.
What are the disadvantages of tiling a fiberglass pool?
The advantages of tiling a fiberglass pool include but are not limited to the following.
It makes the pool more durable, 
Add beauty to the pool and your backyard especially depending on the color of tiles chosen and style of tiling, and 
It makes the pool easy to clean since tiles are easy to clean, and the products used are not difficult to find, nor are they too expensive.
Conclusion
The thought of tiling a fiberglass pool can be a wonderful idea since tiling adds beauty to the pool and makes your backyard more attractive. The tiling design, color, and type of tiles used and professional hired can further enhance the beauty.
But this idea can turn out sour, and a pool owner might never want to consider the option of tiling a fiberglass pool if an unqualified professional is hired to do the job.
Finally, before anyone engages in this activity, they must first estimate their budget, check out professionals in their neighborhood and seek advice where necessary.
In this way, you can be sure a nice job to be done in the end, and you get to enjoy your pool with your family.