Power Wash Gunite: Can You Pressure Wash and How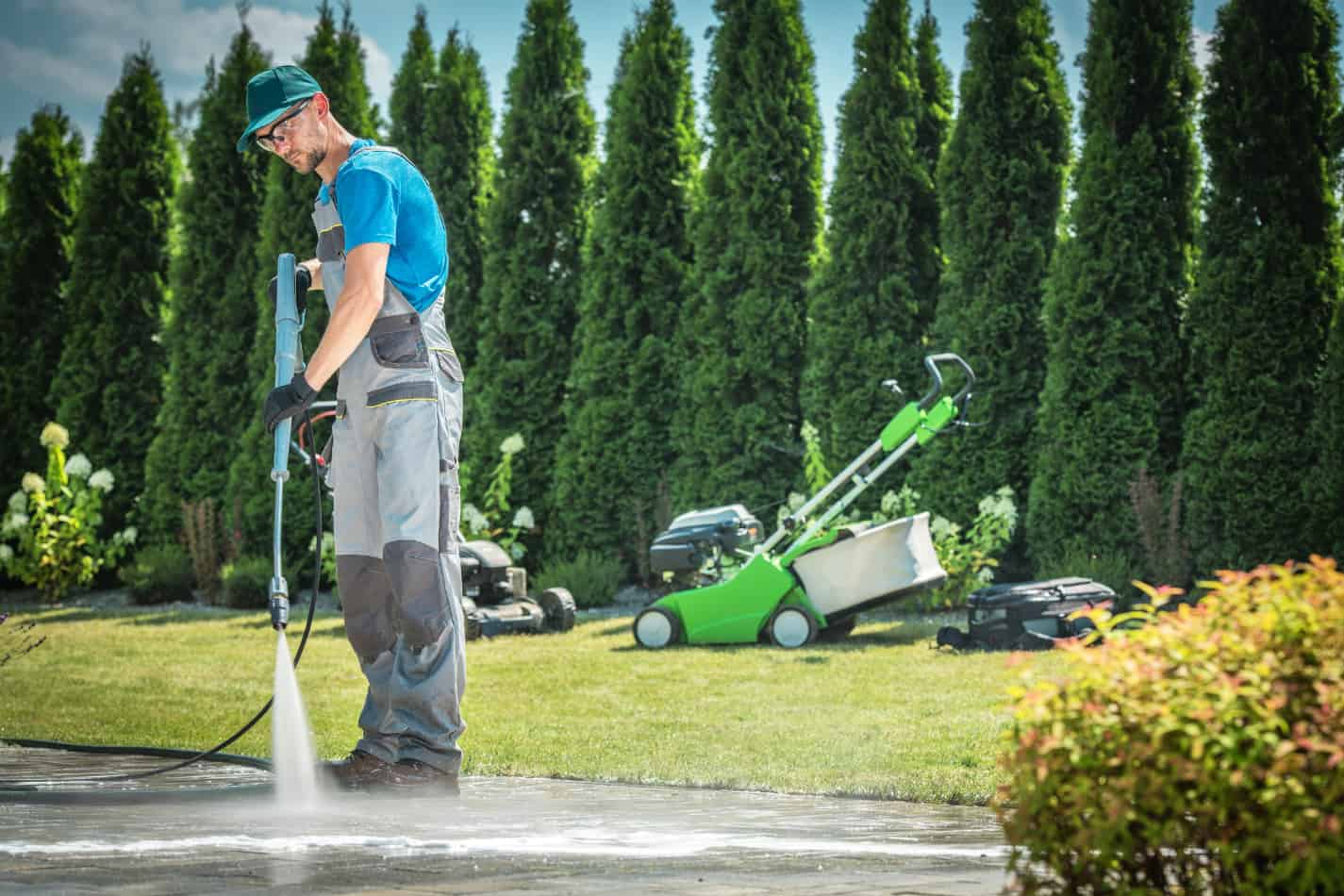 As an Amazon Associate I earn from qualifying purchases.
Gunite pools that can accommodate a significant number of bathers often get dirty much faster. As a result, pool owners must implement rigorous cleaning techniques regularly. 
If you're wondering if you can pressure your Gunite pool. The answer is Yes. Power washing your pool is one of the ideal ways to perform a complete cleaning procedure. And luckily enough, it's a simple yet rewarding technique. But, how exactly do you power wash a gunite pool?
In this article, you will learn how to clean a pool that has been sitting around collecting scum, sludge, or algae for a long time. Continue reading to learn more.
Learn How to Manage Your Pool and Hot Tub
Frustrated trying to keep your pool clear? Feeling confused about when to add the right chemicals? Get the perfect easy-to-use, illustrated ebook and video course today!
What Does it Mean to Pressure/Power Wash Your Pool?
When the washer is used with the appropriate power cleaning solution, the build-up is forced to be lifted from the surface under high pressure. This is what is called power washing. Or simply put, it is washing at high pressure either with cold or hot water. 
Cleaning your pool in this manner can save you energy, time, and money.
Is there a Difference Between Pressure and Power Washing?
Yes, there is a difference. If we're talking about machine types, there's one major difference between a power washer and a pressure washer; the heating element.
Both machines produce a high-pressure water spray, but a power washer also warms the water. This may appear to be a little distinction, yet it significantly impacts how each is utilized.
Both use similar levels of pressure when it comes to water pressure. However, any of them can be used, but a power washer is recommended if your pool has oil or grease stains because the hot water will remove them.
Notes; The amount of pressure a machine produces is determined by the type of machine. 
Can You pressure/power wash a gunite pool?
An excellent power wash is an effective technique to clean your gunite pool. Cleaning your pool with a powerful pressure washer removes all filth particles. However, this method is only recommended for concrete and plaster (gunite) pools.
Pools made of plaster, exposed aggregate, or concrete are the only ones that can stand up to the pressure of a pressure washer. Pressure washing should never be used to clean any other type of pool, such as vinyl or fiberglass.
Caution
This process may take a few days to accomplish, so be patient and do it right the first time. You'll be glad you did!
How to pressure wash your gunite pool
Below is a step-by-step procedure on how you can pressure wash your Gunite pool.
Step 1: Drain the Swimming Pool
The first thing you'll need to do is drain the pool. Check your local environmental codes or city's best practices for pool draining to accomplish this responsibly.
Step 2: Remove all objects from the pool
The next thing you should consider is removing all floating objects from the pool. Remove any smaller items that could become sucked in the submersible pump and create an electrical fire.
You should use a rake net to get down into the pool and remove any floating or submerged items.
Then wait until the pool is completely dry before removing any remaining debris. Clean up the debris and protect all electrical components in the area, such as pump motors, heaters, and stereos. 
Notes: Steps 1 and 2 are the physical part of the process. Next is the chemical part.
Step 3: Use a pressure washer to remove algae from a pool
Algae is the last thing any pool owner wants to find in their water. It's a persistent nuisance that won't go away if not dealt with properly. Even if it goes away, algae have a habit of reappearing.
After you've pressure washed the algae away, treat your pool with algaecide. Here are the full guidelines for permanently removing algae from your pool;
Algae treatment and removal.
This first clean may eliminate a substantial portion of algae. If this is the case, make sure that all the algae are flushed down the drain. If the algae are too thick, don't break it up or damage the drain. Simply scoop it out and discard it in the trash.
Because algae are so microscopic, it isn't killed by spraying a power washer. It will grow back faster if you leave some behind.
If there are any parts of the pool where a thin green or black algae film still exists, use your pressure washer to remove it. To help get the rest off, use a narrower nozzle/spray pattern or raise the pressure. If it still won't come off, leave a coating of soap on it for a while.
After the visible algae have been eliminated, we should now deal with the microalgae.
A bleach solution that has been diluted will be helpful. Mix one part bleach with four parts water in any household bleach. Cover the pool with it, paying special attention to any areas where algae had accumulated.
Do not use your pressure washer with this mixture! It can cause potential damage to the machine. Wear gloves because they can affect your lungs.
Give the Pool a Good Rinse
You should now wash away the bleach solution after it has had a few minutes to work. You can do this with a low-pressure pressure washer. Just make sure you cover every portion of the pool, as bleach can react with the chemicals. Thoroughly rinse the pool before refilling it.
Keep Your Pool in Good Condition
It's critical to keep your pool healthy now that it's algae-free to avoid another algal bloom. Water circulation and shock therapy can both help. An algaecide treatment is also an option.
Which Pressure Washer Should You Use?
You can clean your pool with various types of pressure washers. Even so, most pools function well with electric and gas pressure cleaners. Before purchasing a pressure washer, you should always check with the manufacturer.
They know which works best for your pools. As a result, they can recommend the best solution within your budget.
Our Choice For Best Pressure Washers for a Pool
Image
Product
Features
Price

Best Gas Pressure Washer

Westinghouse Outdoor Power Equipment WPX2700 Gas Powered Pressure Washer 2700 PSI and 2.3 GPM, Soap Tank and Four Nozzle Set, CARB Compliant, Blue

2700 PSI and 2. 3 GPM of Powerful, Deep-Cleaning Water Pressure Perfect for Decks, Sidewalks, Siding, Fences, Railings, Garage Floors, Exterior Walls, Cars and Patio Furniture – Easy to Fill 1 Gallon Gas Tank
Tough Steel Frame Construction With 12″ High Profile, Never-Flat Wheels Provide Easy Transportation and Maneuverability

Check Price

Best Mobility Option

Greenworks 24V 600PSI Pressure Washer

ADJUSTABLE NOZZLE: 5 in 1 selectable spray patterns — 0º,15°, 25º, 40º, watering, PWMA certified
POWERFUL: provides up to 600 PSI max and 0. 8 GPM max
PORTABLE: 20' siphon hose draws water from any freshwater source.
With  4ah USB battery&2A charger

Check Price

Best Electric Washer

Greenworks 2000 Electric Pressure Washer

2000 PSI and 1.1 GPM for efficient cleaning of residential areas
Ideal for medium-duty projects including but not limited to cleaning patio furniture, grills, walkways, and vehicles
Powerful 13 AMP motor and convenient push-button start

Check Price
Conclusion
To conclude, Yes! An excellent power wash is an effective technique to clean your gunite pool. Cleaning your pool with a powerful pressure washer removes all filth particles.
It also prevents algae build-up, which is a typical pool issue. All you have to do is follow the pressure washer's detailed instructions.  
Notwithstanding, this method is only recommended for concrete and plaster pools. A fiberglass or vinyl pool should not be pressure washed.
If you do, you make them prone to damage. We hope this article was helpful. And as always, we wish you the best in your pool maintenance endeavors.