Why Winter is Prime Buying Time for a Home With a Pool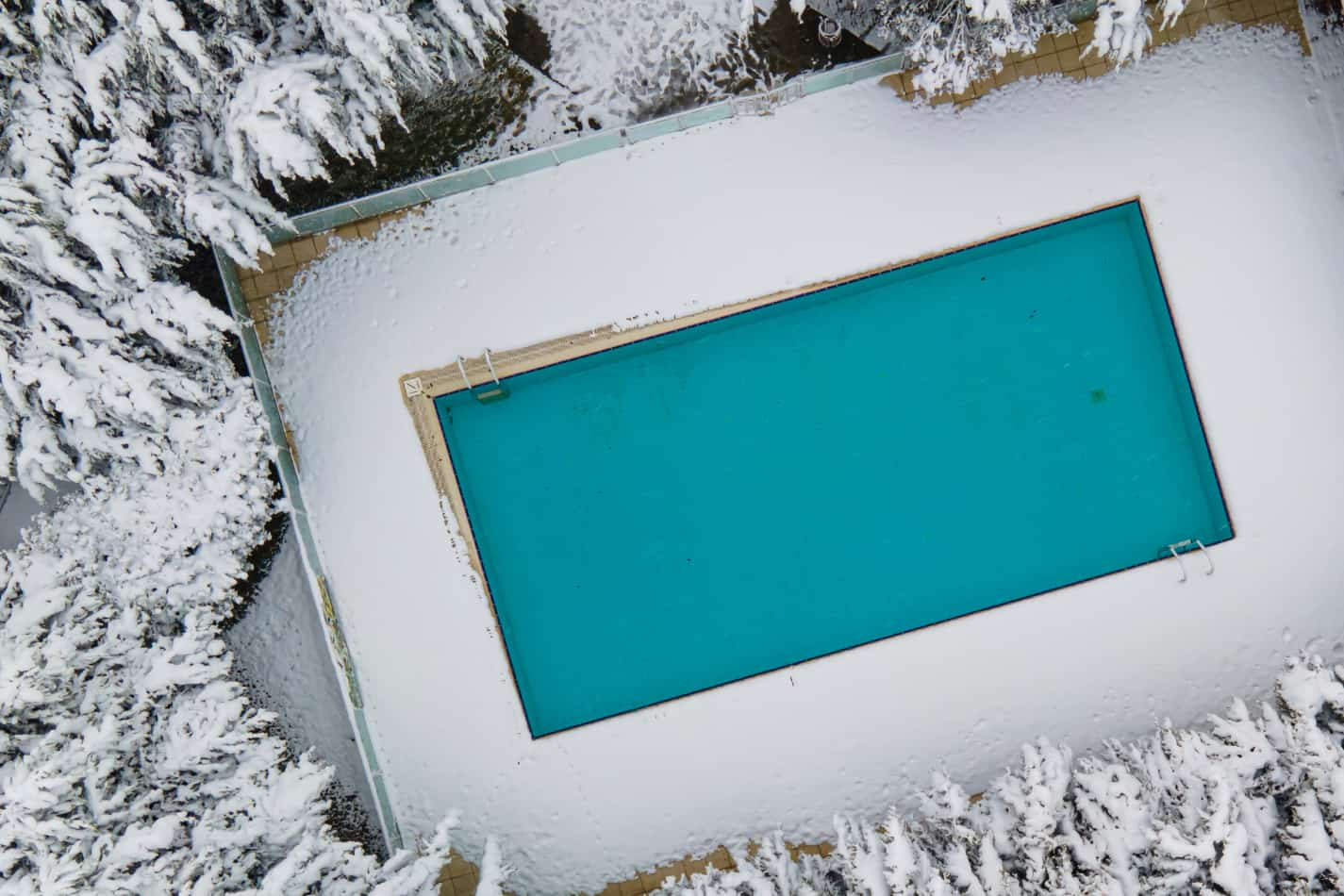 As an Amazon Associate I earn from qualifying purchases.
Many of the swimming pool-equipped homes on the market failed to sell during the hot summer months. This indicates that they've been on the market for a long time and that the sellers are likely eager to sell. Therefore is winter the prime time to buy a house with a pool?
Yes! Winter is considered the best time to buy a house with a pool. This is because it is the time when fewer buyers are in the market. Thus, sellers turn to lower their prices. Read on to learn more.
Learn How to Manage Your Pool and Hot Tub
Frustrated trying to keep your pool clear? Feeling confused about when to add the right chemicals? Get the perfect easy-to-use, illustrated ebook and video course today!
Why you should buy a home in winter.
If you are thinking of buying your home during winter, you are definitely on track. Most home buyers are not affected by the season; they turn to buy their homes during the coldest months of the year because of so many reasons.
Below are some of the reasons why it's preferable to buy a house during winter.
Fewer buyers
Okay, we already know that home sales plummet during the winter months. As a result, you won't have as many competitive buyers as you would if you waited until spring to buy.
That means you won't have to stress as much about someone else snatching your dream house before you can make an offer or about being stuck in a bidding battle. 
Better Offers
Because housing supply and demand are lower in the winter, you may be able to save money on your buy! Isn't it incredible? Statistics say the median listing price of homes sold during winter is around 6% lower than that of homes sold during spring.
That indicates that those who bought their homes in the winter saved tens of thousands of dollars over those who bought in the spring.
Fluctuations in Mortgage Rates
If you're looking for a mortgage, you might be able to lock in a low rate. Having a lower interest rate will save you money as you work to pay off your new house. Keep in mind, though, that interest rates do not always rise. 
Take a look at how long the house lasts.
Winter house searching allows you to see how your potential new home copes with the elements. Moving to a new home in the spring and summer is likely to be much easier than dealing with snowy roads.
But what if you fall in love with home even though the weather is wreaking havoc on it? Then you can rest assured that things will only improve from here!
Tips for buying a house in the winter
Here are a few tips for buying a home in the winter:
Stick to your spending plan. Sure, housing prices may dip a little when the weather becomes warmer. But that doesn't mean you should justify spending more than 25% of your take-home salary on housing expenses each month. Calculate how much house you can afford and stick to it to ensure your winter home purchase is a blessing rather than a curse.
Negotiate with self-assurance. Keep in mind that there isn't a lot of competition. As a result, merchants are likely to be willing to work with you. If the home inspection uncovers any problems, don't be afraid to ask your seller to make repairs or reduce the asking price.
Prepare for changes in the tax code. Buying a house might complicate your tax situation, which is why consulting a tax specialist is usually a good idea. They can ensure that you receive all of the deductions and credits you are entitled to.
If you follow these tips, you should be able to find the house you desire and receive a fair price throughout the winter.
Why you should buy a house with a pool in winter. 
As for the pool, don't let the best season for buying your pool pass you by just because the ground is frozen. As the weather turns colder, industry professionals compete for your business, resulting in cheaper costs and more options for customers.
Before it's too late, take a look at some reasons to buy a pool in the winter.
Spend Less
Pool designers hurry to sell this year's greatest pools, saving you money on pool purchases, as next year's pools are set to launch once the New Year arrives.
Furthermore, experienced pool technicians are less busy during the winter months, so you have a higher chance of getting a good price on a pool.
Take Advantage of Convenient Installation
As the snow and ice melt, the busy season for pool businesses officially begins, as homeowners fantasize of sun-drenched summer days spent poolside. 
Unfortunately, waiting until spring to have your pool installed will almost always result in a lengthy wait. Instead, buy a pool during the winter months and have it installed when it's convenient for you.
Avoid a rush
If you wait until spring or summer to buy a pool and schedule installation, you'll be rushing to your local pool company with your neighbors. Following that, you'll encounter limited contractor availability, increased fees, and a longer wait to enjoy your dream pool.
Don't be rushed; acquire a pool in the winter for the best choices, availability, and cost.
Get ready for some summer fun.
The ability to "break-in" your pool before the summer months is perhaps the finest benefit of acquiring a pool in the winter.
Unlike those who wait until the last minute to install a pool, you may get used to pool ownership and upkeep before inviting friends and family over for the first pool party.
Fewer taxes are paid
According to an adage, you can't outrun taxes any more than you can outrun death. You can, however, take advantage of several tax deductions. 
When you file your taxes at the end of the year, the interest you paid on your new swimming pool can really help you. You won't have to wait until next year's return if you buy a pool in the winter.
Conclusion
Conclusively, when you list the numerous advantages that come with buying a house and a pool in winter, you will consider winter as the prime buying time for a house or a pool.
Nonetheless, many buyers will prefer buying a house with a pool to enjoy the low costs and get their dream pool in the winter season because they are fewer buyers and less expensive.